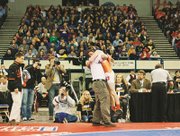 PORTLAND -- There were no "Hermiston purple" title T-shirts this season.
At least, not any worn by Dallas wrestlers.
A state team championship proved to be too elusive for the Dragons in 2013, a year after the squad ended what had been a five-year reign in Class 5A by those perennial-champion Bulldogs.
I wondered if that was OK for the Dallas wrestlers, their faithful fans, and their prideful coach.
Tony Olliff, like he always does, smiled and found the words to explain the difference between winning it all and finishing just short.
"You know what, this is pretty special," Olliff said as his team carried its second-place trophy out of Veterans Memorial Coliseum Saturday evening.
"We did some things that had never been done before -- this team broke a lot of new barriers."
Those included three state champions -- Matt Hofenbredl picked up his second and Wyatt Passantino and Cody Bibler each tasted victory for the first time -- and five Dallas wrestlers in the finals.
Nineteen state qualifiers was also tops for the program, along with a dominating Mid-Willamette Conference season that saw the Dragons go undefeated in dual competition and then win the conference tournament by a whopping 185 points.
Photo by Pete Strong
Dallas' Wyatt Passantino, left, grapples with Redmond's Sarek Shields.
I heard a few comments of surprise on Dallas' finish, too.
The Dragons -- battling injuries, academic issues and lack of mental preparation -- admittedly struggled this season.
Olliff flat-out told me on the day that Dallas failed to even win its own home tournament, back in January, that his team hadn't put it together yet.
Saturday -- despite several setbacks that saw capable wrestlers eliminated perhaps too soon in consolation competition -- the Dragons pulled up their bootstraps and made it happen.
Bibler's title was a surprise to me -- Olliff tells me he saw it coming, of course -- after the junior failed to even qualify for the state tournament in 2012.
Even Bibler admitted even he didn't foresee a championship back in October.
"I was hoping to get top three, so this was pretty good," he told me with a smile.
But there he was, awaiting his state title medal, an accomplishment that Olliff told me Bibler earned a long time ago, shortly after he placed sixth in the 2012 district tournament.
"You know how he responded?" Olliff said of Bibler's disappointing district performance. "He went out for freestyle and Greco and wrestled through the spring while playing tennis. He played tennis and wrestled every morning and lifted and started earning his state championship back in April.
Photo by Nicole Watkins
Dallas' David Rebischke placed fourth in the 170- pound weight class.
"I'm glad it paid off because I tell kids all the time the recipe is not that complicated."
Hofenbredl -- two fingers raised up, signifying his second state championship -- did what he knew in his mind he was supposed to do.
The fun part will be waiting for two more -- to perhaps become Dallas' first four-peat on a wrestling mat.
Passantino, after two disappointing runner-up finishes, at last captured his coveted title, and I wasn't sure what reaction to expect when it finally happened.
I should have known better.
The 152-pound senior, just like he always has done, let the referee raise his hand, kept his head down, and walked quietly off the mat.
He was happy, but I think he was mostly relieved.
"There's no pressure anymore," he told me. "It's all gone."
Scotty Dunagan and Gunner Wyatt each made their way to their first title matches, and though they didn't walk away with victories, there was no shame in battling it out with two of the better wrestlers in perhaps the country in Hermiston's Abraham Rodriguez and Tyler Berger, both repeat title winners.
Riley Sipe showed his grit at 220 with a fifth-place win on a ginger ankle and David Rebischke's smile to his older brother, Ben, as he came from behind to win his first-round consolation match -- he eventually placed fourth at 170 -- were also highlights in a different kind of state tournament experience.
"Each team has its own personality," Olliff added, and he wasn't afraid to mention the notable fact that Hermiston had four new wrestlers -- transfers and former state champions from other schools -- riding with them to their sixth 5A title.
Photo by Nicole Watkins
Dallas' Scotty Dunagan, top, defeated Eagle Point's Hunter Hoeptner in the 160-pound semifinals.
"You take away those four guys from other places and it's a different story," he said, "so I'm proud of these boys who grew up in Dallas."
Dallas might not have won this time, but I have a pretty strong feeling they will, again.
With the enormous amount of pride that the Dragons -- along with their coaches and community -- carry with them, it's hard to argue otherwise.
-
Nicole Watkins is the sports editor for the Itemizer-Observer. She can be reached at nwatkins@polkio.com or 503-623-2373. Follow her on Twitter @NicoleWatkinsIO.