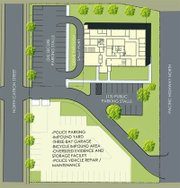 MONMOUTH -- A survey of Monmouth residents shows that a proposed bond measure to buy and renovate a new police station would likely pass -- as long as supporters execute a thorough information campaign.
Approximately 52 percent of respondents gave a confident "yes" when asked if they would support a $4 million bond for a new facility, with another 11 percent giving mixed approval.
"It's reaffirmed what I've thought personally, but it's nice to see the community sees the need as well," said Steve Milligan, a city councilor and member of the Friends of Monmouth Police political action committee.
Portland-based Campbell DeLong Resources conducted a telephone survey of Monmouth residents in January.
City Manager Scott McClure said consultants contacted about 1,000 residents and were hoping for a minimum of 100 respondents.
"One-hundred-fifty would have been good," McClure said."They got 269."
The city is seeking support for a bond measure that would levy a property tax of 48 cents per $1,000 of assessed value. Funds would be used to purchase the old Forest Capital building off Highway 99W and reconfigure it as a police station.
According to the survey:
* The average voter in Monmouth is 62 and has lived in town for 22 years; one quarter of respondents have been residents for less than 10 years. Seventy-five percent of respondents vote in all elections.
* Sixty-three percent of respondents said the city made efficient use -- or better -- of tax dollars.
* When asked whether they would vote for the bond prior to receiving details -- what the current station lacks and general improvements of a new facility -- the number of respondents rejecting and approving the measure was almost even.
* After receiving information, 63 percent of respondents said "yes," with 11 percent of those offering a more lukewarm approval. Twenty-two percent said they would still vote "no."
* The most influential piece of information to respondents about the bond was that their net city property tax increase would be $36 a year -- the bond would take effect once an existing library bond expires.
The city, meanwhile, has posted renderings and a floorplan for a possible new station. At 10,235 square feet, it would nearly triple the size of the current facility.
Monmouth City Council will hold a special meeting at Volunteer Hall Wednesday (today) at 5:30 p.m. to adopt a ballot title. If approved, Polk County will assign it a measure number and add it to the local ballot for the May 21 primary election.