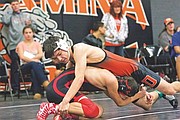 WILLAMINA -- Even if no one else saw it coming, Matt Dindinger had an inkling that Saturday's Bob Bishop Invitational would be a special day for him.
Plus, his goal was to win.
"For some reason, I felt like I was going to do really good today," the Dallas sophomore said.
The 132-pounder -- in just his second year of wrestling -- backed up those feelings with his first tournament title, sweeping through his weight class with a 4-0 record.
Dindinger, who was elevated to mainly varsity matches midway through the season, was one of three Dallas individual champions -- joining Matt Hofenbredl and Garrett Lawrence -- and one of the many dark horses who excelled for the Dragons, who took the team title with 216 points.
Host Willamina placed second with 204« points, Hudson's Bay (Wash.) was third with 182 points and Central finished fourth with 111 points.
Out of all of Dallas' placers -- 13 wrestlers in all -- Dindinger's name came up as the biggest surprise of the day.
"What we've seen out of Matthew Dindinger out of these couple of tournaments has been phenomenal," Lawrence, who defeated Dallas teammate Thomas Braun in the 145-pound final, said. "I can honestly say I didn't expect him to do what he's been doing, so it's good for him. I'm excited to see what he can do his senior year."
It was also a strong performance from Lawrence, a district champion in 2012 who hasn't seen much time on the mat thus far this season. The senior has been hampered by an injury, college placement tests and missed weigh-ins.
"Mat time is what's going to make you better for any wrestler, so being here (Saturday), it definitely felt like a privilege because I've missed so many tournaments this past month. It felt good to get after it.
Photo by Nicole Watkins
Dallas' Garrett Lawrence, left, wrestles with Dallas teammate Thomas Braun in the 145-pound title match Saturday at the Bob Bishop Invitational at Willamina High. Lawrence won by decision.
"It was a good day of hard work and I really appreciated the experience."
Hofenbredl, the defending Class 5A 106-pound champ, took down the 2012 Class 3A state champ at 113 pounds, Willamina's Skyler Voigt, by a 4-0 decision in the 120-pound bracket to round out Dallas' title winners.
But it was the performances of a few usually junior varsity wrestlers -- elevated to varsity Saturday as other wrestlers kept their match limits in check -- that displayed the Dragons' depth.
Highlights included Tristan Ringhouse's finals appearance at 195 pounds (where he placed second), Nick Bradford as a runner-up at 160 pounds, Braun's second-place finish at 145 pounds and Jesse Stuhr's third-place finish at 106 pounds.
"This gives them good experience going into districts," Hofenbredl said. "They now have that confidence and that mindset that they can compete with varsity-level wrestlers."
Added Lawrence: "They're stepping up and it's really exciting to see the transformation of some of our younger guys."
Other Dallas placers included Brady Andersen (second, 138); David Holmquist (tied for third, 152); Stephen Uridales (fifth, 285); Justin Spencer (fifth, 126); Damien Byington (tied for fifth, 170); and T.J. Cross (tied for fifth, 113).
Central put together another strong team performance Saturday, led by third-place finishes from Colin Swinehart (120), Noah Stepp (182) and David Vidal (220).
Photo by Nicole Watkins
Central's Colin Swinehart, top, finished third in the 120-pound bracket to lead Central to a fourth-place team finish Saturday in Willamina.
Swinehart, a freshman, was pinned in his championship semifinal match by Willamina's Voigt but responded with two wins in the consolation round to finish the tournament with a 4-1 record.
"I don't know ... I was kind of looking toward the next match," he said of his thought process after his loss. "I just had to forget what happened and learn from it."
Stepp (4-1) and Vidal (3-1) both tied for third in their brackets when each wrestler's final placing match was forfeited due to a five-match limit rule.
For Stepp, it was the second-straight third-place finish for the senior after he took third at the Central Invitational Dec. 21.
"I found the moves that worked and just stuck with it," he said of his strategy after he opened Saturday's tourney with a 12-6 loss to Heda Manriquez of Hudson's Bay.
Stepp also credited an increase in overall strength as a major factor in his success so far this season.
"I'm definitely stronger -- I don't know if I'm better technique-wise, but the strength definitely helped. That was a big factor last year that I've just expanded this year."
Also placing for the Panthers were Steven Worthington (fourth, 113); Daxten Blackwell (fourth, 132); Tanner Swinehart (fifth, 152); and Jacobo Flores (tied for fifth, 113).
NEXT MATCHES
Dallas Tournament
When:
Saturday, 10 a.m.
Where:
Dallas High School.
Teams:
Dallas, Central, Liberty, Willamina, Tillamook, Sheridan, Junction City and Tualatin.
Admission:
$5 adults; $3 for school-age children.
NEXT MATCHES
Central at Oregon West Duals
When:
Thursday, 5 p.m.
Where:
Philomath High.