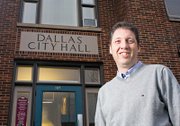 DALLAS -- Ron Foggin, Dallas' new city manager, only looked into Brigham Young University's public administration program on the advice of a trusted professor.
It was a good thing, too. If he hadn't, he may have missed out on what he believes is his calling.
Foggin, 45, had an undergraduate degree in political science and figured he would end up in business management. But it was the early 1990s and the economy had turned for the worse. He was struggling to find a job.
"I stopped in to talk to one of my political science professors and I was kind of bemoaning my situation," he recalled. "She said `That's really funny. I always thought you would go on and do something in government.'"
She urged him to research public administration, a route Foggin said hadn't occurred to him before.
"I went and met with the chair of the program, got my papers in and haven't looked back," he said.
Foggin's work values were first developed years earlier, though, growing up on his family's cattle ranch in Montana. It wasn't glamorous work and it was often very, very cold.
"I grew up on the back of a horse," he said. "We ran 500 head of cattle. I learned to work hard, to be responsible and take initiative. It's served me well throughout my life."
That included his first professional experience through an internship at the city of Lehi, Utah. Little did he know, it was an audition.
After earning his master's degree, Foggin was hired as the city treasurer of a newly incorporated city near Lehi. At the time, Lehi's finance director had just taken a position in another city.
City officials offered Foggin the job. He accepted and served as finance director for seven years, then assistant city administrator for another eight years.
Foggin left Lehi after the city passed him over for its city administrator position in 2011.
Since then, he made a living through consulting but missed public service. When he found the advertisement for Dallas city manager, he thought he was a good fit for the job. The feeling was mutual. Foggin began the job on Jan. 2.
His vision for the city is one of government transparency and "taking residents and turning them into citizens" through opportunities for involvement.
Foggin has no illusions as to the task before him. Cities across the nation have experienced budget cuts, with Dallas being no exception. Foggin was well aware of needed cuts after questionable budgeting practices were discovered last October. The issue was handled swiftly, if painfully, by the city council, but Foggin was unfazed.
"I would have come in and helped make the budget cuts, if that was necessary," he said.
Foggin has a similar opinion about taking over for a previous city manager who left under suspicion of misusing city resources.
"At least for the city manager position, I'm interested in rebuilding the confidence in the position. That is going to take a little bit more work than what you would hope when you come into a new job," he said. "My hope is that we can put whatever issues the former city manager had behind us and that staff and myself will be given the opportunity to show that this was an anomaly."
Part of doing that will include changes to the budget process to make it easier to understand where money is being spent. He is also looking into establishing statistical measures of how departments are performing with the money they are given.
In the long term, Foggin says he will strive to encourage Dallas' success and growth.
"You can call it fluffy or whatever, but it really is rewarding to be part of a community and making it better," Foggin said. "I've had an opportunity to do that (in Lehi) and I'm looking forward to doing that in Dallas."
Meet City Manager Ron Foggin ...
Family:
Wife, Julie; daughters, Linda and Clarissa; sons, Cayden, Conner and Carson.
Hero:
Explorer Sir Earnest Shackleton. "Because he was a great leader. Through courage, compassion and a positive attitude was able to keep 27 men alive in one of the harshest climates on Earth (Antarctica) for over a year."
Favorite movie:
"I am a movie person (Foggin managed a movie theater while attending college) and average seeing one movie in the theater every week. I have so many favorites I would hate to pick just one."
Favorite sport:
Baseball. "I hope to visit every Major League Baseball stadium. I have been to 20 of the 30 stadiums."