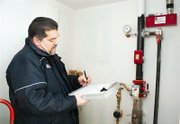 INDEPENDENCE -- The first two weeks of January saw Jeff Donahue perform his final field assignments for Polk Fire District No. 1 -- testing a fire alarm system at Western Oregon University and assisting the city of Monmouth with construction inspections.
Now it's back to what Donahue has been doing since he learned he would be losing his job: putting out feelers for a new one.
"I have a lot of applications going out and I'm watching what's available," said Donahue, the district's former fire marshal. "But there's not a lot out there."
It's not an easy time being a fire prevention specialist, especially one for a small jurisdiction. Polk No. 1's fire marshal position was eliminated on Friday. Dallas Fire Department cut its fire marshal post by attrition, in November.
Both decisions were cost-cutting measures. There's now no stand-alone fire prevention specialist in a Polk County agency for the first time in decades.
Calling a fire marshal an endangered species is an overstatement, but they aren't common on staffs anymore, either, Donahue said.
"Policymakers have a tough time going to citizens and saying we need to cut emergency responders," said Donahue, who's career spans 32 years, the last four with Polk No. 1. "So they look to support divisions as the first to go."
A fire marshal's duties include plan reviews on new construction related to fire code issues, inspections of sprinkler and alarm systems, investigations and coordinating public education and safety.
"Annecdotally, it's maybe 50 percent" of districts and departments in Oregon that have their own fire marshal or prevention officer, said Richard Hoover of the office of the State Fire Marshal.
Among communities of comparable size, agencies in Stayton and Madras lack fire marshals because of cost. Silverton Fire Department, meanwhile, has its own prevention officer.
What will the impact be in Monmouth and Independence?
Polk No. 1 Fire Chief Jason Cane and community building officials will have to pick up some inspection slack.
This could affect new construction or businesses, particularly when the economy improves; cities incorporate a fire marshal's inspection of fire safety systems and occupancy limits when doing plan reviews or inspections. Fire marshals also oversee occupancy limits.
Jeff Kennedy, Independence building official, said there could be longer wait times.
"If it's a critical building, I probably won't sign off on it until the fire district has examined it," Kennedy said. "There's a possibility this could delay some projects by a day or two."
Polk No. 1 will rely more on the state deputy fire marshals for investigations and inspections -- "those are on a first-come, first-serve basis" -- of public facilities such as schools, Cane said.
Education offerings will be reduced and the district will no longer host a regular car seat clinic, he added.
Stayton Fire Chief Jack Carriger said his department uses volunteers to provide safety education. Unfortunately, prevention, education and training priorities are "almost competing interests" for dollars for some agencies, he opined.
How to measure the worth of prevention is a question "that's plagued the fire service from the beginning," Carriger said.
"You can look at numbers, but numbers are only going to tell you what happened, not what didn't happen," he said.
Determining how many fires or related injuries have been avoided because of a comprehensive inspections or a presentation at a school isn't easy, Cane said.
"But an ounce of prevention is worth a pound of cure," he added. "We don't have many residential fires ... and I attribute that to education programs we've had."