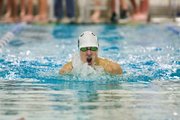 DALLAS -- Individually, the Central High boys swimming team has several talented swimmers.
But collectively -- in terms of the 200-yard individual medley and 200-yard freestyle relays -- is when the Panthers tend to shine the brightest.
The quartet of Matt Stanger, Matthew Grandquist, Nathan Glade and Rahevin Potter-Clark have stepped up to create another season of Central strength in the 200 relays, events that the four swept during Thursday's 86-77 dual meet loss to crosscounty rival Dallas.
Matt Stanger
"As individuals, we're good, too, but the relays are what we're really good at," Potter-Clark said.
Potter-Clark, a senior whose first name is pronounced "Raven," is one of two swimmers back from last season's Class 4A-3A-2A-1A state qualifying relay teams.
Central was led by the 200 freestyle squad's fifth-place finish in 2012.
That experience, which Potter-Clark shared with Stanger and graduated four-year swimmers Robert Berry and Andrew Hasbrook, is one that has driven Central's success in the events this season.
"That was my first time swimming at state, but my second time being there," Potter-Clark said of his state finals appearance, referring to his sophomore year when he served as an alternate. "It was really exciting."
Potter-Clark also took first place in the 100 backstroke (1:13.94) and was second in the 200 freestyle (2:07.88) on Thursday.
Stanger, who set a personal record in his first-place finish (2:23.32) in the 200 individual medley Thursday, has also reached the state meet twice, first as an alternate and then as a swimmer on those relays.
Matthew Grandquist
His goal this season is to return to state in both relays as well as make his first individual appearance in the 200 individual medley.
"(The state meet) really inspired me to do a lot more," Stanger, who also placed third in the 100 breaststroke (1:16.19), said.
"I'm going to make sure that I do this for the rest of my high school career and keep pushing it farther."
Grandquist, who swims double-duty with the Salem-based Northwest Aquatics club team, is in a new role as a starter on the two relays after spending much of last year as an alternate.
The senior said he's more than ready for the challenge, but doesn't put too much pressure on himself.
Photo by Nicole Watkins
Central's Rahevin Potter-Clark won the 100 backstroke with a time of 1:13.94 in Thursday's meet against Dallas.
"I just try not to overthink it -- pretty much our goals are to make state and to place well at state."
Grandquist added a first-place finish in the 50 freestyle (25.13 seconds) and placed second in the 100 freestyle (56.56) in Thursday's meet.
Glade, a sophomore who also swims club with the Blue Dolphins Swim Team of Dallas, rounds out the quartet, as he, too, has moved into a prime role on each relay after serving last season as an alternate.
The breaststroke swimmer in the 200 IM relay, he placed second in the individual 100 breaststroke (1:11.38) and was also second in the 200 IM (2:26.60).
Central's strongest relay is the 200 freestyle, which the Panthers won Thursday with a time of 1:43.04. That's 8 seconds off the team's time in last year's state finals, but Potter-Clark said the group can reach that mark by districts.
"In about a month, we can do it," he said.
Girls
Sara Spreadbury picked up two second-place finishes and Julissa Amador, Liz Olsen, Catie Miller, and the 200 and 400 freestyle relay teams all picked up runner-up efforts to lead the Central girls squad in a 115-53 loss to Dallas Thursday.
Spreadbury took second in both the 200 freestyle (2:31.77) and the 100 freestyle (1:08.23) and joined teammates Amador, Carleee Hasbrook and Franki Cable on the second-place 200 freestyle relay team (2:04.92) to lead the Panthers.
Amador was a runner-up in the 200 IM (2:59.19), Olsen placed second in the 50 freestyle (30.41) and Miller was second in the 100 butterfly (1:23.28).
The 400 freestyle relay team of Kate Taylor, Miller, Mandi Desmarteau and Hanna Brown swam a time of 5:05.97 to finish in the runner-up slot.
--
NOTE:
For results on all of Central's swim meets from last week, see SCOREBOARD on Page 11A.
NEXT MEET
Central at Philomath Invitational
When:
Thursday, 3 p.m.
Where:
Philomath High School.