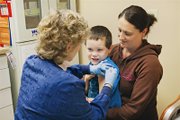 DALLAS -- Tracy Heck said it was best to be straight forward with her son, Conner Pettit, as to the purpose of their visit to the Polk County Public Health office last week -- school vaccinations.
"I'm not going to lie to him," Heck said. "He knows what he's got to do."
The 6-year-old put on a brave front when he sat down with immunization coordinator Judy Johnson. As she administered the injection, Conner let out a long grunt through gritted teeth. Not too bad.
Then came the flu vaccine. And a yelp. And a few tears.
The sting would be worth it, Heck assured. In late October, all five members of her family came down with the flu during a four-day stretch.
"I don't want us to get it again," Heck of Dallas said. "It's scary."
If the frequency with which county officials have been giving flu shots is any indication, most local residents share those same concerns.
After a slow demand during the first few months of flu season, Public Health completely depleted its original supply of vaccine -- about 850 doses -- on Jan. 16. An additional shipment of 50 doses was nearly used up in three days afterward. More vaccine is expected this week.
Flu vaccine
"I've been here six years and I don't think I've ever had to re-order vaccine before," said Johnson, noting that there were perhaps one or two people coming in for shots weekly until January.
"We gave 17 shots (the afternoon of Jan. 16)," she said.
This is all in reaction, of course, to the flu season that has 30 states -- primarily on the East Coast and Midwest -- reporting high percentages of influenza-like illness.
Oregon's flu activity level was listed "moderate" as of last week by the Oregon Health Authority. Flu season runs until April, however.
"Our peak is mid-February and March ... the incident level is moderate now, but we expect it will get worse as time goes on," said Randi Phillips, Polk County Public Health manager. "Luckily, there have been no outbreaks yet and hopefully there will be none at all ... and we can deter the season for getting worse."
As of Thursday, the percentage of outpatient visits for flu symptoms in Oregon was 2.5 percent, down from 2.8 percent a week earlier. Flu season officially starts when the percentage tops 1.5 percent of visits.
The nationwide rate was 4.6 percent as of Jan. 12, more than double the federal baseline for visits, according to CDC.
Kirk Hillebrand, Polk County's communicable disease nurse, said he wasn't aware of widespread flu being reported locally. None of the county's largest school districts, Central and Dallas, or Western Oregon University have had outbreaks.
Officials are still bracing for it and have been stressing the usual prevention tips, such as constant hand washing and staying home if symptoms materialize.
Central Superintendent Buzz Brazeau said the flu grounded him for four days earlier this month.
"It's a very tough flu," Brazeau said. "I'm not glad I experienced it at all."
West Valley Hospital hasn't admitted any patients for flu-like illness since October, according to a hospital spokesman. On an outpatient basis, West Valley has seen a total of nine flu cases since Nov. 24.
While flu cases are still cropping up locally, this year can't compare to 2009, when outpatient visits across the state topped 10 percent during the spring because of the swine flu. Locally, Central was shuttered for a week and Western for three days due to the flu.
Still, demand for vaccinations has been acute, Johnson said. Up until this week, the county had been limiting shots to youths under the age of 10 and referring everyone older than that to pharmacies for shots.
Gary Dukes, WOU vice president of student affairs, said officials with the university's Student Health Center predict there will be a rash of cases before the season is over.
"They've had a lot of students call and ask where they can get flu shots," Dukes said. "We have a flu shot clinic in October and we've wanted to have another one, but we've had a difficult time getting more vaccine."
Oregon Health Authority recommends the following to prevent the spread of the flu virus:
* Cover your nose and mouth with a tissue or your arm when you cough or sneeze.
* Wash your hands often with soap and water. Alcohol-based hand sanitizers are also effective.
* Avoid touching your eyes, nose or mouth.
* Try to avoid close contact with sick people.
* Clean work and household surfaces often.
* Wear a mask if you have a weakened immune system.
* Ask your family, friends and health providers to get a flu vaccination.
Severe flu symptoms that require an emergency room visit:
* Difficulty breathing or shortness of breath.
* Pain or pressure in the chest or abdomen.
* Sudden dizziness.
* Confusion.
* Severe or persistent vomiting.
* Flu-like symptoms that improve, but then return with fever and worse.
For more information about flu prevention, visit flu.oregon.gov; to find a flu vaccination site near you, call SafeNet at 211.