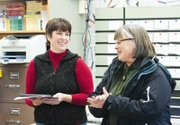 Area female artists
in exhibit spotlight
River Gallery of Independence is marking the start of a new art season at the gallery with its annual "Wild Women Art Show," now in its 12th year.
More than 50 artists have submitted 102 pieces of work this year that include metal sculpture, bead work, paintings, ceramics, photography, wood work and jewelry.
The show at 184 S. Main St. runs now through March 3. Gallery hours are Tuesday through Sunday from 11 a.m. to 5 p.m.
An opening celebration for the "Wild Women Art Show" will be held Saturday from 5 to 9 p.m. It will feature the music of Jim Hockenhull and Joe Huff.
For more information: 503-838-6171; email to rivergallery97351@gmail.com.
PSWCD co-hosting
two local classes
Polk Soil and Water Conservation District and two local watershed councils are teaming up to offer two free workshops.
On Thursday, attendees can learn about invasive species, stream health and how to improve your streambank during a presentation titled "Invasives Management and Streamside Vegetation." The workshop, hosted by PSWCD and the Luckiamute Watershed Council, meets at the Monmouth Public Library, 168 S. Ecols St., from 6 to 8 p.m.
On Tuesday, learn about traditional uses of native plants during a class titled "Ethnobotany: Culture and Natural Resource Management." The class, hosted by PSWCD and the Rickreall Watershed Council, meets at Dallas High School, 1250 SE Holman Ave., from 6 to 8 p.m.
To sign up or for more information: 503-623-9680.
WVH Volunteers
to hold fundraisers
West Valley Hospital Volunteer Services is conducting two fundraisers at the hospital, 525 SE Washington St., Dallas.
Wednesday and Thursday, a $6 jewelry sale is taking place in the hospital conference room. A wide range of gift items will be available for $6.
A See's Candies sale begins Friday and continues through Feb. 13 in the hospital's front lobby. An 8-ounce red Valentine's heart filled with assorted chocolates costs $13.
Proceeds benefit the West Valley Hospital Volunteer Services Scholarship Fund.
For more information: 503-623-7323.
Seniors will honor
locals with a meal
Dallas Area Seniors will hold an appreciation breakfast Saturday for people from the business community and the general public who have given their support to the group over the past years.
The breakfast is being held at the Dallas Senior Center, 955 SE Jefferson St., from 8:30 to 10:30 a.m. on Saturday.
Biscuits and gravy as well as sausage and eggs will be served. There is no charge for the meal, although donations will be accepted.
For more information: Dallas Senior Center, 503-623-8554.
Saturday breakfast
slated in Monmouth
Monmouth Senior Center will host its monthly all-you-can-eat community breakfast fundraiser on Saturday from 8:30 to 10:30 a.m.
Cost is by a suggested donation of $6 per person, $3 for children under 12. The meal includes pancakes, sausage, scrambled eggs, biscuits and gravy, and orange juice, coffee and tea.
Proceeds benefit the Monmouth Senior Center building expansion fund. The center is located at 180 S. Warren St.
For more information: 503-838-5678.
Caregivers class
set in Monmouth
Those caring for individuals suffering from Alzheimer's disease or other forms of dementia can learn how to take better care of themselves while caring for others through a six-week class offered at the Monmouth Senior Center.
"Powerful Tools for Caregivers" is a free program that will show family caregivers how to reduce stress, communicate effectively and make tough decisions.
The class runs every Thursday from 2 to 4 p.m. from Feb. 7 to March 14. Space is limited and registration is required by Monday. The program is coordinated by Monmouth Senior Center and NorthWest Senior & Disability Services.
For more information or to register: 503-831-5593 or 503-559-4001.
Polk VORP benefit
takes place Tuesday
Tickets are still available for the Victim Offender Reconciliation Program/Community Mediation Service's 27th annual Pentacle Theatre benefit play fundraiser, scheduled Tuesday at 7:30 p.m.
This year's play is "Incorruptible," a comedy set in Priseaux, France, during the Dark Ages.
In conjunction with the play, the nonprofit organization is holding a silent auction. The auction, which begins at 6:30 p.m., features a variety of items including metal art, gift certificates, wine, concert tickets, a custom-made fishing rod and more. You do not have to attend the play to bid on auction items.
Tickets for the play are $20 each. Tickets are available through Ken Braun (503-623-3111; email to vorpcmsfms@gmail.com) or Jennifer Wheeler (email to jvawterwheeler@gmail.com).
Women's Bible
study scheduled
A new women's Bible study covering Jeremiah Part I will begin Feb. 7 at Evangelical Bible Church, 1175 SE Howe St., Dallas.
Morning and/or evening classes are available. Child care is available during the morning session. Cost of the Precepts book is $20.25. The study continues through May.
For more information or to sign up: Rosalee Stent, 503-623-5782.