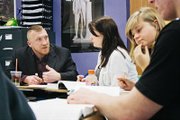 Quartet to perform
at local churches
The Keepers of the Faith Quartet will perform two free concerts at Polk County churches this week.
The first performance takes place Wednesday (today) from 6:30 to 8 p.m. at Westgate Assembly of God Church, 1675 Wallace Road NW, West Salem. The public is welcome.
The group will then perform Sunday at 6 p.m. at Dallas Evangelical Bible Church, 1175 SE Howe St. The public is welcome.
While both concerts are free, love offerings will be accepted.
For more information: 503-364-0002 or email to office@westgateag.com (West Salem performance); Harold Rempel, 503-623-3877 or email to hsrempel@msn.com (Dallas performance).
Bone health class
scheduled at WVH
A one-day class on building better bones will be held Thursday at West Valley Hospital in Dallas.
The class meets from 10 to 11:15 a.m. at the hospital, 525 SE Washington St., and is open to men and women. Cost is $5.
By attending this class, you will learn why bone health is important, the most current information about calcium and vitamin D, and easy take-home exercises to improve bone health. Bone screening is included in the class.
To register or for more information: 503-814-2432; online at salemhealth.org/chec; email to chec@salemhealth.org.
Reception for art
show is Thursday
An art show featuring the work of glass carving artist Bill Wilson takes place Thursday through March 14 at Angeney Kime Art Gallery, 769 N. Main St., Suite A, in Independence.
An opening reception for the show will be held Thursday from 5 to 8 p.m. Light refreshments will be served.
Wilson is the owner of Wilson's Glass Art and has been carving and frosting glass images since 1967. His award-winning works have made their way to more than 25 states and 13 countries.
For more information: Sally Penna or Tamara Kime, 503-838-2701 or 503-551-6982.
Spring gun show
set this weekend
The Polk County Fairgrounds and Event Center is the site for the 2013 Rickreall Spring Gun Show, scheduled Saturday and Sunday.
This is an opportunity to buy, sell and trade. Guns, knives, ammunition and collector items will be on display.
Show hours are Saturday from 8 a.m. to 5 p.m. and Sunday from 9 a.m. to 4 p.m.
Admission is $5, with children under 12 admitted free. Food is available for purchase and parking is free.
For more information: 503-623-3048.
Service club will
hold benefit dinner
GFWC Independence/Polk County Service Club will host a spring fling no cost dinner event Saturday from 4 to 7 p.m. at the group's clubhouse, 340 Third St. in Independence.
While the event is free, donations will be accepted to benefit renovation efforts at the clubhouse, which is a gathering place for large families and available for rental.
Donations will also be used for the "Hank's Helmet" event, which provides helmets to children who are active in riding bikes, skateboards and other objects, and teaches proper handling of bikes while on the road.
For more information: Heather Thomas, 503-508-3569 (evenings).
Square dance set
this Saturday night
Guthrie Park Community Center will host its next monthly country folk dance Saturday from 7 to 10 p.m.
All ages are welcome for an evening of dancing to the music of Cash & Company. Caller is Alan Ede. Dances include old-time squares, big circles, longway sets and waltzes. No experience is necessary; all dances are taught.
Admission is $5 per person and children 12 and under are free. A family rate of $15 for four or more people from the same immediate family is available.
The center is located at 4320 Kings Valley Highway, south of Dallas.
For more information: Sally, 503-623-0809; guthriepark@gmail.com; www.guthriepark.org.
Grange schedules
Sunday breakfast
Buell Grange will host its monthly Second Sunday Community Breakfast on March 10 from 8 to 11 a.m.
Cost is $6 per person, and the menu is scheduled to include your choice of pancakes, sausage and eggs; hash browns, sausage and eggs; or French toast and sausage. Meals include juice and coffee.
The event is a fundraiser. Proceeds go toward the maintenance of the Buell Grange Hall, located at 5970 Mill Creek Road, just off Highway 22 northwest of Dallas.
For more information: 503-623-8462 or 503-843-4703.
Church will host
concert on Sunday
The Salem Singers will perform a concert Sunday at 6 p.m. at Heart to Heart Church, 191 N. Monmouth Ave., Monmouth.
The hourlong performance of musical praise is open to the public. Finger foods and snacks will follow the concert. A freewill offering will be accepted.
For more information: Annita, 503-838-4742; Lisa, 503-837-0541.
Benefit for library
set in Independence
Tickets are now on sale for the seventh annual movie fundraiser hosted by Friends of the Independence Public Library.
The event scheduled Monday at 7 p.m. at Independence Cinema 8 will feature a showing of the movie "Finding Forrester" starring Sean Connery.
Tickets are $15 per person, including free popcorn, and available at the library, 175 Monmouth St. A drawing for door prizes will be held.
For more information: Betty Plude, 503-838-4039.
Gallery featuring
work of NW potter
River Gallery of Independence is featuring the work of Jerrold Martisak, a noted Pacific Northwest potter, during March.
Martisak is well known for his stoneware and pit-fired art pieces. Lately, however, he has returned to his roots and is working in porcelain and white stoneware, creating functional whiteware with a unique cherry underglaze.
Martisak's work can be seen all month in the gallery window. In addition to the window feature, River Gallery will showcase the work of local artist and illustrator, Richard Bunse.
River Gallery is located at 184 S. Main St. and is open Tuesday through Sunday from 11 a.m. to 5 p.m.
For more information: 503-838-6171; email to rivergallery97351@gmail.com.
Women's military
group set to meet
Salem Women's Military League, whose membership area includes Polk County, will hold a no-host luncheon Tuesday at Peach Tree Grill in Salem.
Social hour begins at 11 a.m. and the luncheon is at noon. RSVP is requested by Thursday.
The organization is for wives, widows, mothers, daughters or sisters of commissioned and warrant officers of all branches of the United States military, or any woman commissioned in her own right.
For more information regarding luncheon reservations or membership: Alice McDonald, 503-623-1008; Anne Rose, 503-585-5810.