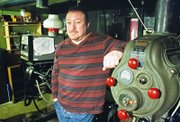 DALLAS -- When Jeff and Robin Mexico took over the Fox Theatre in Dallas in 2007, they dedicated an enormous amount of their time, energy and money to restoring it.
Jeff Mexico performed all the refurbishing himself, installing new curtains on the theater walls, adding drink cup holders on the seats, painting, and remodeling the concession stand.
That work began to pay off last year, when ticket sales started to pick up, nearly matching attendance at the Mexicos' other successful restored historic movie theater, The Star in Stayton.
"This is a really popular theater," Mexico said. "It was run down when we got it and it took until last year to bring it back."
Another change will come in 2013, but not of Mexico's choosing.
The Fox Theatre -- and many others across the country, including Independence Cinema 8 -- is facing a do-or-die situation in the push to convert from 35mm film projectors to digital.
It's a costly endeavor; Mexico estimates about $45,000 for the projector, server and installation of a new, more reflective screen.
The change will mark an end of a prescreening ritual at the Fox. Films arrive each week at the theater on the familiar "movie reels," each holding 20 minutes of film. Theater employees unwind the film and splice each segment together with bright yellow tape to send the whole film through one projector. With the film moving at 16 frames per second, the audience never notices the splice job.
"That's the way all theaters were up until lately," Mexico said. "Now, most of them -- the big ones, anyway -- are digital. Slowly, but surely all the small-town theaters have to do it or they will have to close their doors."
The sooner they convert, the better.
Pete Strong/Itemizer-Observer
Movie trailers come on their own much smaller reels than feature films. The short previews are -- in 35mm film format -- spliced in front of the main feature.
Due to film giant Kodak filing for bankruptcy last year and Fuji ending production of 35mm film soon, fewer and fewer movies will be available on film.
"We thought we had another year to go, but they are pushing it right now," Mexico said, noting he's having difficulty booking films in 35mm that are readily available on digital. "We are already feeling it."
Mexico is now asking the community to help the theater, which has been showing movies at its current location since 1949, make the upgrade that will keep it open.
He isn't asking for donations and won't be conducting a typical fundraiser -- Mexico aims to finance the upgrade at the Fox with a gift card campaign.
"We are asking people to buy gift cards and they won't expire and will be good for the full amount at the box office and concession stand," he said. "We don't plan on closing the doors. This is our livelihood."
It would take 900 $50 gift cards to cover the cost of conversion. Mexico's goal is to sell enough gift cards to purchase and install a digital projector this summer.
Pete Strong/Itemizer-Observer
Mexico demonstrates how the aperture -- a device in a projector that controls how an image focuses -- must be changed depending on how a movie was filmed.
"We are pushing for June or July because we are already feeling the (film) print problem," Mexico said. "I'm pretty sure they will be putting the blockbusters out on film this summer, but after this summer, we will be hurting if we don't have digital."
Mexico also owns the Motor-Vu Drive-In in Dallas, but has arranged to rent a digital projector for the upcoming season. He will have to secure a permanent upgrade later, which could cost up to $75,000.
Prestige Theatres, which owns Independence Cinema 8 in Independence, will also be installing new projectors in the next two months. The company owns three theaters in Independence, Sandy and Battleground, Wash. It will need to convert eight projectors in Independence alone.
Elie Kassab, the owner of Prestige Theatres, said the company hasn't had trouble booking films in 35mm yet, but fears it won't be long before there are issues.
"There is a lot of uncertainty about availability," he said. "You have to do it (convert) to survive or you are out of business."
Neither owner has considered folding their tents because of the conversion, which perhaps should make local movie fans feel lucky.
"There are already people closing their doors. They are just saying, `The heck with it,'" Mexico said. "To us, it's worth it because we do pretty well here and we love what we do."
You Can Help
*
The Fox Theatre is running a gift card campaign to pay for the cost of replacing its 35mm film projector with a digital projector. The conversion will cost about $45,000 and the theater is hoping to sell enough gift cards by this summer to finance the upgrade. The gift cards don't expire and are good for purchases at the box office and concession stand. For more information about the campaign or to purchase a gift card, go to www.dallasfox.net.