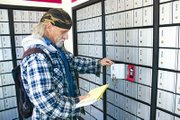 FALLS CITY -- The post office in Falls City will have its service counter hours reduced from seven to four starting next month.
Reducing hours at the post office was the overwhelming preference of Falls City residents compared to other alternatives, according to a survey and opinions expressed at a public hearing on the matter last week.
The other options were to close the office entirely and have services offered through a mail carrier only, or set up a "village post office" in an existing business to sell stamps and flat-rate products.
Residents at the March 5 meeting said closing the post office wasn't an option, given how far away the closest full-service post office would be if that were to happen.
Dan Tyree, the acting postmaster for the city of Corvallis who hosted the public hearing, said there is no plan to close the Falls City post office at this time.
However, he did say the office's use -- measured through foot traffic, mail volume and sales -- will be reviewed each year.
"Every year that will be revisited in determining whether it will be reduced to two (hours)," he said. "The more you use the post office the longer it will stay."
Tyree said along with the reduction in hours, administrative responsibilities for the office will go to the Dallas post office. Lobby post office box pickup wouldn't change, he added.
The U.S. Postal Service has proposed reducing hours at customer service windows at 13,000 post offices across the country and is slated to end Saturday mail delivery in August in an effort to cut costs. USPS is making cuts because in the last five years mail volume has declined 25 percent.
In addition to revenue losses, the USPS is under an obligation to prepay for retiree health insurance, an estimated $5.6 billion cost this fiscal year. Critics of the requirement, approved by Congress in 2006, have said USPS wouldn't have to make such drastic cuts if the prepay was scaled back.
Any change -- if approved -- will be too late for Falls City, which should learn what its new hours will be by Tuesday.
The 35 community members at the meeting were torn between having the post office open from 8 a.m. to noon or 9 a.m. to 1 p.m.
The earlier start time would provide for mail delivery sooner, but the later opening may allow for more customers to be served at the service window.
Falls City carrier Pat McConnell said she can't start her route until the mail has been sorted, which wouldn't happen until after the office opened.
"If we go to 9 a.m. to 1 p.m., I wouldn't see me starting before 9:30 a.m.," she said, noting she starts her route currently at 8 a.m.
Those worried that less foot traffic would eventually lead to closure favored the later opening.
"If you are going to be rated on how much the window is used ... you are better off keeping it open (later), even if you are getting later mail," said resident and city councilor Terry Ungricht.
Unable to come to a decision, residents chose to allow USPS to determine the new hours, which are slated to be posted at the office by Tuesday and will begin 30 days afterward.
Also fearing a reduction in hours would eventually lead to closing the office altogether, Falls City Mayor Amy Houghtaling stressed having no post office would be a substantial hardship for some residents.
"I just want to be very clear that transportation is a huge barrier for a lot of citizens in our community," she said. "For them to have to travel to Dallas or Monmouth would be a huge problem."