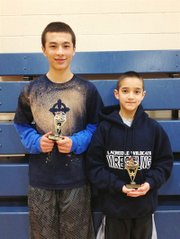 WOODBURN -- Four Polk County wrestlers reached the medal stand at Saturday's middle school state championships at Woodburn High School.
LaCreole Middle School's Dawson Barcroft, a sixth-grader, was the top finisher with his second-place finish at 75 pounds.
Eighth-graders Tanner Earhart, of LaCreole, placed third at 132 pounds and David Negrete, of Talmadge Middle School, was third at 175 pounds.
Also placing was Talmadge eighth-grader Jackson Holstad, who finished fifth at 140 pounds.