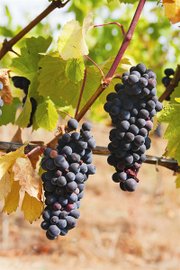 POLK COUNTY -- It's official. The rumors that have been causing a stir in the local wine industry were confirmed Friday, when Jackson Family Wines announced it had purchased three vineyards in Polk County.
Two of the vineyards -- Zena East and Zena Middle -- are located in the hills west of Salem off Zena Road, while the third, Maple Grove, is located south of Monmouth on Priem Road.
Polk County Assessor's Office reported Monday the 99-acre Zena Middle vineyard sold for $200,000, the 65-acre Zena East at $1.7 million and the 655 acres at Maple Grove were purchased at a price of $1.5 million. No other sale details were available.
"I admire pinot noirs from the Willamette Valley and its sub-appellations like Eola-Amity Hills," said Barbara Banke, chairwoman of Jackson Family Wines, in a statement. "The best pinots from Oregon are refined and profound with excellent ageability. When we saw Zena East, Zena Middle and Maple Grove, we were enthused by the prospect of making world-class pinot noir from these distinctive properties."
The purchase came after the company bought grapes from Willamette Valley growers during the 2012 harvest and were impressed with the fruit, the statement said.
The trio of properties are the first Jackson Family Wines has invested in within the United States outside of California. The Sonoma, Calif.-based company produces labels such as Kendall-Jackson and La Crema.
"With a reputation for producing some of the finest pinot noir and Chardonnay available, Oregon was a natural extension of the company's focus on coastal viticultural areas," the statement read.
Friday's announcement confirms what vintners in the area have been speculating about for months.
"Obviously, they bring a very high standard and we will welcome them to the neighborhood," said Tim Ramey, the owner of Zenith Vineyard, located near Zena East and Zena Middle.
Ramey, who bought Zenith 10 years ago, said the purchase enforces what the local wine industry has known for years about the region's ability to produce high-quality wines.
"I think Oregon wine has a reputation that stands on its own. It doesn't need Kendall-Jackson's endorsement," Ramey said. "But it is an important development. This probably won't be the last thing they buy in Oregon."
Zena East and Zena Middle currently have 42 acres under vine, while the Maple Grove site is yet to be planted.
"We appreciate the collegiality of the Oregon wine industry and look forward to becoming more involved in the Willamette Valley community," Banke said.