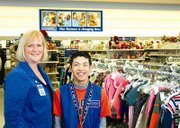 DALLAS -- Kathleen Disney and her crew at the Dallas Goodwill were in for a pleasant surprise.
Late last year Disney, the manager of the store, was expecting a simple story highlighting her 11-year service in the U.S. Navy to be featured in the company newsletter.
The article was about how her military service background helped her lead Dallas' unique Community Integration Program, which offers vocational services, and retail store.
But when she was interviewed for the newsletter in December, Goodwill public relations staff hinted there might be more attention to come.
"They said `Well, there's something else that we can't really talk about right now or can't tell you at the moment, but we will let you know in a couple days," Disney recalled.
Soon she received a call from her supervisor, telling Disney that she had been nominated for a national award for her work at the Dallas store. Then, shortly after that, Disney found out Dallas would be featured in television and radio commercials, outlining her military experience and the success of the store's vocational program -- which provides meaningful work for people with disabilities.
The commercial will begin airing throughout Goodwill Industries of the Columbia Willamette region starting next week.
A professional production team from Portland set up shop in the store for a day, interviewing vocational program participants.
"It made for a really neat change," Disney said. "A lot of people got to talk about what they do, what they like about Goodwill, and what their interests are. I thought that was really important."
However, as much as she may not like to admit it, Disney and her service to her country have starring roles in the 30-second spot.
"I'm doing a pretty all-encompassing job here, so I don't really look back and think about how people might view that type of service," Disney said. "I was pleasantly surprised that people thought that it was interesting and worthwhile."
Disney retired from the Navy in 1996 as a lieutenant commander, after a glass-ceiling breaking career as a naval aviator flying helicopters, which included a deployment to the first Gulf War in 1991.
Courtesy of Kathleen Disney
Disney flew a variety of supply, drug interdiction and search and rescue missions in the CH46D Sea Knight helicopter over her 11-year career as a pilot in the U.S. Navy.
Her love of flying developed early. She earned her private pilot's license at the age of 16 and was able to spend time flying near her hometown in rural Minnesota.
"I was always interested in aviation," Disney said. "I liked flying ... I loved flying."
Upon graduation from high school, Disney applied to the U.S. Army, U.S. Navy and U.S. Air Force ROTC programs.
"I actually ended up with a Navy scholarship and an Army scholarship, but my dad was ex-Navy, so there was no way I was taking the Army scholarship," Disney said with a laugh.
Having developed a love of the West Coast during visits, she chose to attend Oregon State University's ROTC program. She graduated in 1985. Two years later, she was accepted to Navy flight school, where she had to undergo intense physical and mental training along with all other aviator hopefuls. Most of those training with her were men. Disney said at the time only 240 of the 12,000 naval aviators were women.
Disney chose to fly helicopters, specifically CH46D Sea Knights, because it was one of the few assignments where women could perform nearly as many duties as men.
Her skill was put to the test in 1991, when she deployed to the Gulf. She flew transport missions, delivering people and cargo.
On what were called "vertical replenishment" missions, some of that cargo was ammunition. Disney was part of a crew that had the task of resupplying carriers with missiles and bombs, transporting the explosive cargo from one ship to another. The missions were at night -- with no night vision goggles -- and while the ships were moving on rolling seas. The crew would fly back and forth for eight hours -- negotiating delicate turns between each drop and pickup.
"You do this big dance," she recalled, a hint of excitement in her voice. "You are twisting and turning all night long, seeing how fast you could go. It was just a kick."
After the Gulf War, Disney was deployed on drug interdiction missions in California where she was the commander of a squadron, humanitarian missions in Mexico, and search and rescue.
She retired after marrying her husband, Paul Disney, an Army aviator who also flew helicopters. She took time off to raise their family -- three boys all attending Dallas High School now -- and teach part time.
In 2007, Disney's family moved to Dallas and she began working at the Dallas Goodwill as a job coach. Goodwill Industries of the Columbia Willamette Sales Executive Cathy Hannam said it didn't take long for Disney to climb in the ranks.
"We recognized early on that she has a gift in working with people," Hannam said, noting much of that is a product of Disney's military service. "She sets the tone and pace. When you go into the store, you can just feel it. Lots of smiles and pride in the store. I think our customers feel it, too."
Hannam said she once told Disney she was one of her heroes and she isn't the only one to hold Disney in high esteem.
"That's how her team thinks of her as well," Hannam said. "They light up when they see Kathleen."
Disney, in turn, is just as proud of her crew. The Dallas store employs 50 people in its vocational program and they all contribute -- performing 95 percent of the jobs in the store.
"I find it incredibly rewarding when people try new jobs," Disney said.
"When people with a lot of challenges try something new and are so proud of themselves for thinking outside their box ... (they are) working toward a higher level of ability, to something they never thought they could do."