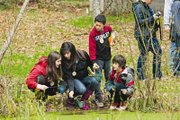 WEST SALEM -- "Oohh, there's a skipping thing over there! Get it!"
Sebastian Diaz, 12, races to the banks of the pond at the Oregon 4-H Center after the bug. The Talmadge Middle School sixth-grader dips in a small aquarium net and skims it along the surface, cutting through an almost uniform layer of bright green duckweed.
Diaz's catch is eventually transferred into an empty ice cube tray. Kevin Fenn of the Oregon Department of Agriculture explains to Diaz and a dozen of his classmates the importance of the mayflies, scuds and other insects swimming inside when discussing water quality.
It might look gross, but the presence of critters means the water is relatively healthy, Fenn said.
"We look at macroinvertebrates to understand water quality and what different fish species can be supported in that area," he said. "It's also an indicator of pollution from land use in the area."
Diaz nods and runs back to the pond for more research.
"It's fun catching insects," he said.
Nearly 150 Talmadge sixth-graders swapped their regular classroom routine for sunshine and the woods for three days last week during Polk Soil and Water Conservation District's annual Outdoor School in the rustic Eola Hills area.
Part summer camp, part hands-on natural resource lessons, the event allowed kids to see what animal tracks look like, make arts and crafts, learn how to prevent soil erosion, and how to shoot a bow and arrow.
Photo by Pete Strong
Students got hands-on experience with a Northern Red-Legged Frog during their water quality lesson.
"A lot of these kids don't get the opportunity to be out in nature, even though we live where we live -- a rural area," said Karina Newbeck, a Talmadge teacher. "We have a mix of kids who do 4-H who are always out doing things and those who grew up without going camping."
PSWCD has run Outdoor School for the last 11 years, utilizing its staff, 34 high school counselors and presenters from a variety of regional, state and federal natural resource agencies.
PSWCD manager Jackie Hastings said she's visited neighboring outdoor programs in the Willamette Valley to make sure local kids would get the same experience. Several of them limited how many activities kids could participate in, she said.
"I wanted kids to be able to do everything," she said, noting that the PSWCD school rotates children through every activity, from geology to wilderness survival.
More than two dozen business and individual sponsorships have helped make the school able to accommodate any child who wants to enroll, Hastings said.
Lucas Hunt, a PSWCD forestry resources technician, said this outdoor school was different from a middle school-run version he participated in as a youth in Dallas -- it was more summer camp and work oriented.
"This school lets them learn about nature at an early age, which is important with the urbanization that's happening today," Hunt said.
It wasn't all serious. Participants made s'mores by the campfire, bunked together in cabins and had to sing for their meals.
Kyla Jackson, 11, and her friends stood on the docks of the 4-H Center's Pagoda Pond for a casting and catch-and-release fishing lesson.
Jackson said while she was "scared being away from home for three days," she was thrilled to learn how to do archery.
Bobbers from the errant casts of past students decorated the limbs of a tree near the dock. Jackson inadvertently added to it.
"This is like my third time fishing, I don't go very often," she explained.