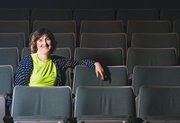 DALLAS -- Blair Cromwell can't find her keys.
Saturday was set-building day for Dallas High School's spring production of Shakespeare's "Twelfth Night." Every storage room door backstage at Bollman Auditorium is locked, so finding those keys is critical.
Cromwell, DHS's theater teacher, is retracing her steps, sending students to look for the missing keys -- to no avail.
Finally, someone asks: "Are they in the pocket of the shirt you wore in?"
"Wouldn't that be embarrassing?" Cromwell said, fumbling through the pockets of the sweatshirt she placed in the corner of her office after arriving.
"No ... wait ... yes," she said, pulling the keys out, punctuating the discovery with an exasperated cry.
She had a similar -- if more consequential -- discovery in her senior year at Western Oregon State College, now Western Oregon University.
Cromwell, 49, a life-long Polk County resident, had been enjoying college, taking a variety of classes in art history, dance, theater and technical theater.
But unlike everyone else she knew, she didn't have a plan for after graduation. Cromwell, in a panic, went to see an adviser. He looked over her transcript and then asked her a key question: "He said, `Well, what are you doing?'"
At the time, she was teaching at Salem's Children's Educational Theater, leading aerobics classes and was the conditioning coach for WOSC's softball team.
She didn't see the pattern, but her adviser did.
"He said `Don't you realize, you're a teacher?'" Cromwell recalled.
Like Saturday's lost keys, she had the answer all along.
--
Cromwell attended another year to finish her degree and earn teaching credentials in theater and French. In a bit of foreshadowing, Cromwell also was the student teacher for the theater program at Dallas High that year. At her predecessor's urging, she applied to fill the position permanently the next year. She was offered the job. That was 1987.
Since then, she's become the center of the program, it's biggest draw for students, colleagues say
.
"She changes their lives," said Linda Griffith, the technical director who has worked with Cromwell for 20 years. "They found a place where they can fail and still be successful. ... People have a safe place here to try things out and not have people poking fun at them."
Establishing that "safe place" is a key part of Cromwell's teaching philosophy.
"For me, if we are in educational theater, ultimately, I would like the shows to be good, but I'm more interested in what happens on the inside of the person," said Cromwell, who also teaches at an Oregon Shakespeare Festival summer program and Dallas' Young Artists Playtrium. "I think we are discovering who we are, what we want, and what is important to us. Those are the things we take with us."
Along the way to those discoveries in her students, Cromwell has led an increasingly successful program, featuring well-received shows and actors competing on the state and national level in recent years.
"In acting, I've improved greatly," said junior Ariana Davis, a cast member of "Twelfth Night." "I went from nothing to the point where I could compete in state. Confidence-wise, it helped me figure out what I like to do and who I am."
It may surprise anyone who knows Cromwell as the energetic and engaging teacher she is that a middle school aptitude test revealed her ideal career was that of a mortician.
"I tested positive for working with dead people," she said, attributing the ill-fitting assessment to a lack of self confidence.
That was before her own life-changing experience with Central High School and WOU's theater programs.
Cromwell credits former WOU theater professor Bob Page for helping her find her way professionally.
"Bob Page was always really about believing in people," she said. "He gave me endless opportunities and I just continued to grow."
In turn, she recognizes the unrealized potential in her own students. Even at a young age when her career began at Dallas -- she was 22 and asked out on a date her first day, by a student -- she had a knack for bringing the best out in people.
Photo by Pete Strong
Blair Cromwell, right, leads an improvisation exercise Monday during a Young Artists Playtrium session. Cromwell has been a drama teacher in Dallas for more than 25 years.
"She really encouraged you to be your own person," said Nora Parnell, a Dallas theater student from 1990-93. "It helped me with my confidence and gave me that feeling that I could accomplish whatever I put my mind to."
Parnell's son, Zac Parnell, is a DHS freshman taking theater.
"It reminds me of how much I enjoyed it in high school," she said. "I'm seeing my kid have the same kind of fun and responsibility."
Margaret Boatwright, Cromwell's mother and long-time costume designer, said it's telling of her daughter's gift how many former students come back to visit.
"You come back to a place where you feel comfortable and she does make them feel comfortable," Boatwright said. "She cares about what they do with their lives, how their lives are turning out -- and they know she does. It's not just all talk."
Did You Know?
A busy school year:
Blair Cromwell keeps plenty busy at Dallas High. Rehearsals for Dallas' fall play begin in September and run through November. In the winter, Dallas' advanced theater class works with elementary-age students to produce a play for other students. The competitive acting season spans January and February. Then rehearsal for the spring play begins in February and runs through April.
Fo
rmer job:
Years before becoming a Broadway performer, Cromwell's friend Patrick Page was an illusionist. She was his assistant. In a memorable performance, the pair were doing the trick in which the magician thrusts swords through a wooden box with a woman inside. The key to the illusion is for both magician and assistant to be in the right position.
"One of us was in the wrong place," Cromwell said. "All of a sudden there was this sword in my leg."
She was able to pull the sword out of her calf and redirect it through the box, but she had to finish the set hiding the bleeding wound from the audience.