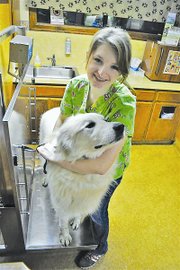 DALLAS -- Jasmine Peatross didn't know much about ethanol when she picked it as the topic for her speech in the FFA's public speaking competition.
Peatross selected a subject mostly unknown to her on purpose; the Dallas High School senior and member of Dallas FFA wanted to learn about something new while preparing her speech.
Peatross now considers herself somewhat of an expert on the subject.
Jasmine Peatross
"I feel like I know everything there is to know about ethanol right now," she said.
Saturday, Peatross stood before judges and put not only her speech delivery, but depth of research on display at the Oregon FFA State Convention in Corvallis. Peatross, the winner of Dallas' district competition in advanced public speaking, was competing with the winners of the 11 other districts in the state.
Fellow FFA member Jamie Kennedy, also a senior, competed in a different kind of "public speaking," the job interview competition.
She was "applying" for a veterinary technician job.
"I'm currently working for a local veterinary clinic, so it was the perfect job," she said. "I'm interested in going to Oregon State University to pursue a career in veterinary medicine, so I thought it would be a perfect opportunity for me to get practice and show my skills."
Kennedy was judged on each step in applying and interviewing for a job: the application, resume, cover letter, references and the interview itself.
Neither Kennedy or Peatross were expecting to make the trip to Corvallis -- at least to compete in one of the many contests that took place between Friday and Monday.
"They both came out of their rooms (at district) saying, `I'm not sure' and they both
ended up winning the whole thing," said Tim Ray, Dallas FFA advisor.
Kennedy's competition was Friday. She placed in the top six to advance to finals on Sunday and placed fourth overall. Peatross' speech was Saturday, where she placed eighth overall.
Dallas' success didn't end there. Jeb Brateng, who submitted his supervised agricultural experience project in fruit production for review, has qualified to advance to the national competition for a fruit production proficiency award.
Brateng, Peatross and Kennedy were part of a large contingent of Dallas, Perrydale and Central FFA members earning state degrees or who vied for a chance to go to the national competition in Louisville, Ky., Oct. 30-Nov. 2.
--
Other FFA members who competed or received state recognition at the convention
from Polk County include:
FFA members earning state degrees
Central FFA
-- Emma Neville, Olivia Miller, Miranda Fenton, Jessie Stender, Kaylee Miller and Jeremy Walton.
Dallas FFA --
Jasmine Peatross.
Perrydale FFA
-- Landon Pope.
Proficiency Awards
(recognizing members who excel in their supervised agricultural experience (SAE) projects and have developed specialized skills they can use in their careers):
Central FFA
-- Megan Marchand, home and community development; Olivia Miller, dairy production; Miranda Fenton, equine science and sheep production; Jeremy Walton, forage production; Kaylee Miller, grain production, specialty crop, agriculture processing, swine production and beef production.
Dallas FFA
-- Jeb Brateng, fruit production placement; Jamie Kennedy, vet science placement; Mikayla Unger, goat production placement; Baylie Cederburg, agricultural education.
Farm Business Management Test
Central FFA
-- Nathan Aldrich, Sean O'Brien, AJ O'Brien, Ty Stutsman, Grace Neville, Tyler Thompson.
Photo Contest
Perrydale FFA
-- Kaitlyn Moran and Abbie Carmona.
Officer Books
(to display FFA chapter officers' organizational skills)
Central FFA
-- Kyle Miller, treasurer's book, and Caitlyn Chase, secretary's book.
Perrydale FFA
-- Christina Sekafetz, secretary's book.
Chapter technology scrapbook (telling a FFA chapter's story):
Perrydale FFA
-- Taylor Rossi.