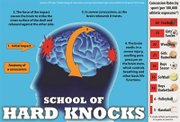 HIGH SCHOOL CONCUSSIONS BY THE NUMBERS
300,000 -- Estimated number of concussions sustained annually by high school students in the United States.
13.2 -- Percent of injuries that are concussions.
1,000 -- Estimated number of concussions sustained by high school athletes in Oregon annually.
2010 -- Year that Max's Law was enacted in Oregon, mandating that all high school coaches undergo annual concussion education.
POLK COUNTY -- With the brightness of the lights illuminating the field, the packed grandstands rattled with the sounds of fans cheering.
On the sidelines, sounds of gruff coaches barked out instructions in between the thwack of helmets and pads.
It was high school football at its finest, except Toby Prescott doesn't remember much of that -- at least not on the night of Nov. 11, 2011, during Central High's first-round playoff contest against Gladstone.
"I didn't really remember where I was," Prescott recalled after taking a hard hit that sent him to the sidelines confused and unsteady. "I lost my balance and I kind of repeated questions -- I guess I kept asking who we were playing a bunch of times.
"I didn't know where I was, and as the night went on, I got this ringing in my ears that just wouldn't stop."
Prescott, like an estimated 300,000 high school athletes do each year across the United States, had suffered a concussion.
He would miss the rest of the Panthers' playoff run -- which would eventually end in the semifinals with a loss to Siuslaw -- but the then-sophomore wasn't expecting what would happen next.
Photo by Nicole Watkins
Central's Toby Prescott (25) sat out his junior football season as the result of two concussions sustained in the course of a year.
After sustaining a freak accident at home in late summer that resulted in another concussion, Central's starting junior running back was forced to watch the entire 2012 campaign from the sidelines.
"It's been extremely frustrating," said Prescott, who has been treated and tested by neurologists who determined that playing football -- at least not then -- just wasn't a good idea.
"I think probably the worst part during football season was just having to sit back and watch your team," he said, pausing for a moment. "It was kind of a struggling season for us, and knowing that maybe if I was out there, we might not have won those games, but it would have been more helpful if I could have been out there, actually doing something instead of getting water."
Prescott is not the first or last athlete to miss competition due to the effects of a concussion. But the junior is living in a world that has slowly begun to change its perception of how serious these injuries really are and what must be done to treat and manage them properly.
Define 'concussion': A look at the facts
Bell ringer. Ding. Blackout. Brain bruise.
There are various names that used to refer to what is now called a concussion. In all reality, though, none of those terms do justice to what a concussion really is: a brain injury in which trauma to the head results in a temporary disruption of normal brain function. The injury occurs when the brain is violently rocked back and forth or twisted inside the skull as a result from direct or indirect force.
As the National Federation of State High School Associations (NFHS) puts it, "There is no such thing as a mild brain injury."
Symptoms range from physical: dizziness, weakness, change in balance, changes in vision, hearing, sleep disturbances; to cognitive: disorientation, confusion, difficulty concentrating, difficulty in memory; to emotional and behavioral: irritability, depression and anxiety.
Sophie Hess, a Dallas High School senior who said she has sustained three concussions -- two in basketball and one in soccer -- pointed to the emotional setbacks after her second and most intense brain injury.
"I was super frustrated and really emotional all of the time," said Hess, who with friend and classmate Braedi Sayer -- also a victim of three diagnosed concussions -- joined the Dallas swim team this past winter for the first time to stay in shape with a much lower risk of sustaining a head injury.
Photo by Nicole Watkins
Dallas High senior Sophie Hess (12), who said she has sustained three concussions — two in basketball and one in soccer — joined the school's swim team this past winter as a way to stay in shape without the risk of sustaining a traumatic brain injury.
"The biggest thing I noticed was that I wasn't as patient as I used to be," said Sayer, who suffered all three concussions while playing soccer, two just last fall. "The second one, I really noticed that I couldn't pay attention and I couldn't remember anything and I would get really, really mad.
"I was really emotional and I couldn't sleep at all -- I would go to bed and I would feel like I was sleeping, but I wasn't asleep. It was really weird."
The number of concussions sustained by Oregon high schoolers -- it's estimated to be about 1,000 per year -- is hard to pinpoint, as schools are not required to report injuries to any governing agency.
But much of the statistical information available is based on data done by the Research Institute at Nationwide Children's Hospital in Columbus, Ohio, which completed a 2012 study on a broad range of high schools across the country that reported concussions based on athletic exposures in more than 20 sports from 2008-2010.
The schools used High School RIO -- or Reporting Information Online -- to report their injury information.
Out of 14,635 total injuries, the study reported 1,936 concussions (13.2 percent).
Per 100,000 athletic exposures (counted as practices or games, no matter how long the playing time), football (64) carried the highest rate of concussions, followed by girls soccer (33), boys wrestling (22) and girls basketball (21). The rest of the data for sports offered in Polk County fell below a rate of 20
.
The number of concussions per year is also going up, according to a related study done through the High School RIO results. From 2006 to 2012, the site noted a 13 percent increase in the total number of concussions reported.
Most experts in the field believe that rise is due to an increase in the reporting and diagnosing of concussions, rather than a growth in the injuries themselves.
That's true everywhere, even in Polk County.
"I think there's more awareness currently within the community and even the kids and it's more of an awareness that's led to an increase in number," said Jeremy Ainsworth, Central High's athletic trainer.
"It's because they're being recognized, they're being further evaluated and they're being treated."
Shift in awareness
Why the increase in recognition?
In the last 10 years or so, advanced medical studies combined with the prevalence of serious and sometimes fatal brain injuries in sports have brought upon new legislation, increased media coverage and national awareness of concussions and their treatment.
Football, the sport with the highest rate of concussions, is at the forefront.
Even the National Football League, with now-retired players who continue to suffer from brain trauma holding the league responsible, has taken a major step in educating the public about concussions.
Fortunately for Oregon student athletes, this state has been ahead of the game when it comes to education on sports-related brain injuries.
Michael Koester
"Our sports medicine advisory committee has been in existence since the early 1970s," said Dr. Michael Koester, the chairman of the Oregon School Activities Association (OSAA) committee and former chairman of the same committee for the NFHS. "We were the first state committee in the U.S. put together for high school sports and we were actually the first governing sports association to make the recommendation to the schools that athletes don't return the same day as a concussion, as well as that they should not play until being cleared by a medical professional."
Koester and the OSAA sports medicine advisory committee helped form the regulations for Max's Law, enacted for the 2010-11 school year, that set new concussion management guidelines -- which the OSAA has adopted -- for student-athletes, including the two guidelines mentioned above by Koester.
The law, named after former Oregon high school athlete Max Conradt, who suffered severe brain injuries after he was allowed to return to the football field without medical clearance from a prior concussion, also requires all coaches in school sports to undergo annual training on how to recognize concussion symptoms and how to determine if athletes need to be removed from competition.
"I think we had the same kind of injuries 15, 20 years ago but we just told the kids to shake it off because we didn't know any better," said Shane Hedrick, Central's athletic director and head football coach. "Today, we do a great job at diagnosing things ... It's a standing rule now that as a football coach, if we even suspect that a kid has a concussion, we don't risk it -- we send them right to a trainer."
Concussions hit home
So, what does all this legislation mean for athletes, coaches and parents in Polk County?
Graphic by Pete Strong
Causes of traumatic brain injuries treated in U.S. Emergency rooms, ages 5-19, 2002-2006.
"I think, at least in Dallas, we are more aware, we are more proactive and we're going to be on the cautious end of pulling a kid (from the playing field)," Dallas High School Principal Steve Spencer said.
"We report and collect that (information), but I think there are other schools that are a little more liberal, who might be like, 'No, we're tougher than the other school so we're not going to have as many concussions," Spencer added.
Steve Spencer
"I think that's real. There are some schools and athletic directors that I've spoken with over the past year that say, 'Oh, we've had one, maybe two.' I know we're in double digits and I find that strange."
Beginning just this school year Spencer, Athletic Director Tim Larson and Brent Darrington, the school's athletic trainer, helped DHS implement a protocol that details the steps to take when any student -- not just athletes -- suffers a traumatic brain injury, or TBI. The protocol's goals are to make parents and students aware of a TBI's symptoms, risks and proper management. This includes a "gradual return to activity plan" that -- along with the advice of a health care professional -- is created with the school's administration to detail when it is OK to not just return to the playing field, but also the classroom.
"What you need is rest (to recover) and to send home a bunch of homework, that doesn't work," Spencer said. "Your brain needs rest -- it means no music, no PlayStation, no any of that stuff."
The protocol is tailored after the OSAA's suggested return to activity plan, which is recommended to all of the state's 292 high schools.
Dallas, like Central High, also requires all of its athletes to take an ImPACT -- or Immediate Post-Concussion Assessment and Cognitive Testing -- baseline test before participating in competition. ImPACT, which should be taken before ever sustaining a concussion, is one of several widely-used tests that help determine if an athlete is cognitively back to normal and ready to return to the playing field.
Perrydale and Falls City do not require the imPACT testing, but both of the smaller Class 1A schools also don't have access to an athletic trainer. That makes the mandatory coaches' training mandated by Max's Law and the OSAA crucial for such schools, especially when it comes to recognizing a concussion.
Perrydale football coach Dan Dugan said that once he and his coaching staff diagnose a concussion, the athlete is then referred to either the emergency room or to their personal doctor. Emergency medical technicians (EMTS) are present at Perrydale football games.
"I don't think anybody says any of the 'Remember the Titans' lines anymore like 'Water makes you weak,' or anything like that," Dugan said. "A lot of times what happens is that kids don't want to tell coaches (about a concussion) because they'll have to come out of the game, but we try to have a relationship with the kid where they feel comfortable with us to tell us."
Tough decisions
Although the emphasis on concussion education and management has been improved tenfold over the last decade, it doesn't change what brain injuries may mean for athletes struggling to stay on the field.
Spencer admitted that he took a greater interest in establishing DHS's concussion policy after his son, Ryan, a Dallas junior, sustained several head injuries over the past year in baseball, football and wrestling.
"We're learning -- well, I'm learning -- that (concussions) tend to build on each other and so, as you have more of them, the ease of getting them happens a little more frequently. It's a scary thing.
"If we were to take sports away from (Ryan), I don't know what he would have -- he lives for that. But I also want him to live a wonderful and productive life. Sometimes you've got to put that into perspective."
There's no set recovery time for a concussion, either. Initial treatment is complete physical and cognitive rest, followed by a gradual introduction back into physical activity. Most symptoms must be completely gone before athletes are released back into full-contact play.
For some, that takes a day or two. For others, like Prescott, it can take months. And for others, even years.
"No two kids are the same and no two concussions are the same -- they're all individualized and they vary in recovery time -- it's pretty impressive," Ainsworth said. "A person that lost consciousness could be fine in a couple of days and then you can have a kid that didn't lose consciousness and they're still having symptoms in a few weeks.
"Sometimes, that makes management hard."
A January 2013 study done by the University of Oregon tested 20 high school athletes in the Eugene area who had suffered a concussion in various sports. They were assessed within 72 hours of the injury and then again one week, two weeks, a month and two months later. Even two months post-concussion, the athletes' ability to focus and switch tasks readily amid distractions was compromised, suggesting that "some athletes may need longer recovery time than current practices dictate," noted the study, led by Li-Shan Chou, professor of human physiology.
Prescott, a talented sprinter who is cleared to participate in track and field this spring, has fears that go even further than two months.
"I still have trouble sleeping, and sometimes I still have the ringing in my ears," he admitted, with a forced laugh. "That's one (symptom) that hasn't completely gone away yet."
His hope is that he can be cleared for his senior year of football, though he knows the risks involved.
"I take it a lot more seriously now," Prescott said of concussions. "You see all these boxers and stuff having these issues, and NFL players having all these issues, and so, you kind of wonder, is that going to be me in the future?"