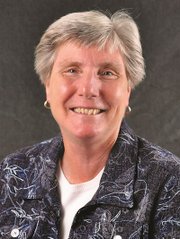 MONMOUTH -- Thirty-five years after beginning her career first as a coach and then an administrator, Barbara Dearing has reached one of the pinnacles of college athletics.
Dearing has been appointed as Western Oregon University's next executive director of intercollegiate athletics, as announced by WOU President Mark Weiss on Monday.
The Beckley, W.Va., native will tell you it's been a goal of hers for a long time.
"It's something that I've wanted to do career-wise and I knew that when I was coaching, that at some point in time, I wanted to make that transition from coaching to administration," Dearing said by phone from her office at Portland State University, where she's been serving in senior administration for the past six years.
Dearing, currently PSU's associate athletic director for business and financial operations as well as the school's senior woman administrator, is set to take over the WOU program July 1 from interim (and former) athletic director Jon Carey, who has headed the program after the departure of Daniel Hare in August.
Dearing got her break into the college coaching ranks in 1979, when she became the second head coach of the Liberty University (Va.) softball team.
After six seasons with the Flames, she took head coaching positions with Ohio State (1985-89), Columbus State Community College (Ohio, 1990-2001) and Presbyterian College (2001-03) before moving into collegiate administration at Longwood University (Va.) in 2004.
But it was long before Dearing took her current post at Portland State -- she started as the assistant athletic director before being promoted to associate AD in 2008 -- when she built the foundation for where she is today.
It came in the form of a master's degree in business that she earned from Franklin University (Ohio) in 1996.
"When you see that master's degree from Franklin, that will give you an idea of how long I've been planning for this," Dearing said.
Planning and building her skill set -- while waiting for the culture of few women in the highest ranking athletic positions to change -- has finally paid off for Dearing with WOU's hiring.
She's the first female athletic director in WOU history and is the fourth in the 10-team Great Northwest Athletic Conference, joining 26-year AD Lynda Goodrich of Western Washington, Erin O'Connell of Seattle Pacific (AD since 2007) and interim AD Krista Montague of Montana State Billings.
In 2012, 20.3 percent of all athletic directors in NCAA divisions I, II and III were female, as found by a 35-year national study.
"I've been a pioneer, I've been a builder and I've chosen to do that so other young women can make the change in what they want to do, and not have any roadblocks in being able to do it," Dearing said.
In her role at PSU, Dearing was responsible for managing a $14 million athletic department budget while serving as the sport administrator for men's and women's track and field and cross-country, women's softball, women's soccer and women's volleyball.
Western Oregon has an approximate athletic budget of $4.1 million for its 11 sports.
Dearing, who was also a finalist for the Central Washington athletic director position, said she understands the challenge ahead of her.
That's part of what drew her to WOU.
"The thing that made me most passionate about Western Oregon is the fact that they have done more with less than anyone else in the conference," she said. "There's something about that. We may not have as much as everyone else, but we're going to take pride in the field or the court, as well as the classroom.
"To me, it's blue-collar ... Western Oregon is an opportunity place."
Dearing is also an active member of the NCAA Division I Women's Softball Committee and she is the co-chairwoman of the NCAA West Regional Softball Advisory Committee.
"Barbara Dearing has been successful in all areas of collegiate athletics and I am confident she will be a great asset to WOU," Weiss said in a WOU press release. "Her vast experience as a coach and an administrator has her ready to build on the tradition and excellence of WOU athletics."