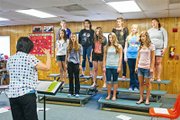 PERRYDALE -- Perrydale's high school choir -- an all-girls group -- is a determined bunch.
In February, the choir qualified for the Oregon School Activities Association's state choir competition -- quite an accomplishment in itself, as only two all-girls groups made the cut -- beginning Thursday at George Fox University in Newberg.
As soon as the choir steps on the stage Thursday, it will have already exceeded what it achieved last year.
In 2012, Perrydale's choir earned a trip to the 3A-2A-1A state contest, only to be disqualified for having an eighth-grader in the group.
This year, the choir hopes to wipe away that disappointment.
"I hope we'll do really well and at least place somewhere -- even if it is like sixth place because we have worked really hard," said sophomore Rilley Syphers, who also sang in choir last year.
Perhaps more impressive are the circumstances surrounding Perrydale's success.
The choir began the year with Perrydale fine arts teacher Misty Matthews as director. She selected and taught the girls the performance set for the state qualifying festival at Linfield College in February, but took maternity leave just eight rehearsals before the festival.
Her substitute, Janet Carruthers, stepped in for the final preparation and directed the choir at the festival.
"It was really a team effort for Ms. Matthews and I to get the girls where they are," Carruthers said. "It really couldn't have happened if everyone was not cooperating. The girls could have been resistant, but they aren't. They were very, very accepting of me coming in."
What's more, the choir is singing songs in four different languages -- Latin, Norwegian, Japanese and English -- and in a wide range of styles, an ambitious feat for a choir undergoing a midyear change in directors.
"That's why I tell them their middle name is flexibility," Carruthers said, smiling.
Melia Deters, a junior who has been in the choir for two years, said the song selection is likely part of why the choir was able to earn automatic state-qualifying marks. Now she is eager to see how the choir, and its challenging set, stacks up against stiffer competition.
"I'm excited because we scored so high and are competing against schools that are so much bigger than us," she said. "Just the idea that we could go in there, a choir of 11 girls, and maybe beat a choir of 60 people is really exciting. I'm really proud of us."
Carruthers added the girls aren't just counting on the set's degree of difficulty to impress the judges. They have put plenty of hard work into preparing, even running their own rehearsals on days she wasn't able to attend.
"They take ownership," she said. "They handle their own rehearsal and are very respectful of each other. They get a lot done, even if the director is not here."
With Matthews returning from leave this week, the group will undergo yet another twist before taking the stage Thursday. Matthews will direct two songs in the choir's five-song set.
But with all the other changes they have been through this year, the girls aren't too concerned about working with two directors at state.
"If we do our best, I'm pretty sure we'll do really well," said Kaitlyn Moran, a junior. "I think we have the potential to get really high scores."
Of note: Central High School will also compete at the state choir competition in the Class 4A division, performing on Saturday.
On To State
Class 3A-2A-1A state qualifying choirs -- including Perrydale's -- will perform Thursday at 9 a.m. Perrydale is scheduled to sing at 10 a.m.
Class 6A schools will perform Friday.
Class 5A and 4A schools will perform Saturday beginning at 9 a.m. Central will take the stage at 10:40 a.m.
The competition takes place at George Fox University's Bauman Auditorium, 414 N. Meridian St., Newberg.