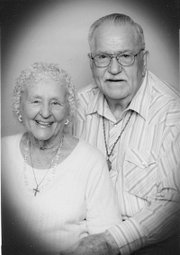 Staggs -- 65th
Billie Ray and Betty Jane Staggs of Dallas celebrated their 65th wedding anniversary on May 6 with receptions at Salt Creek Baptist Church and Countrywood Manor.
Billie Ray Staggs and Betty Jane Hein were married on May 6, 1948, in Vancouver, Wash. Judge Bowman performed the ceremony. The couple was attended by Gracie Hein, Ezra Calvin and Pearlie Staggs.
The couple has lived in Polk County for nearly all of their married life.
Billie retired in 1985 as a millwright and plumber. Betty is a homemaker.
Billie and Betty are members of Salt Creek Baptist Church. They enjoy going to the beach.
Their family includes Michael and Deb Weston of Kalispell, Mont., Patricia Autry of Dallas, Billie and Catherine Staggs of Salem, and Kevin Staggs of Redding, Calif. They have nine grandchildren, 23 great-grandchildren and three great-great-grandchildren.
More like this story