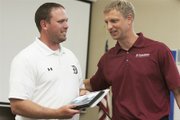 M-I Rotary takes
part in tree planting
Members of the Monmouth-Independence Rotary Club planted three trees on Ecols Street, near Main Street, in downtown Monmouth on May 4.
This tree planting was part of the annual "Rotarians at Work" day.
Participating in this tree planting were Patty Nevue, Jim Birken, Paul Doellinger, Peggy Mehl, Scott McClure and John McArdle.
The Monmouth-Independence Rotary Club also purchased the trees for the city of Monmouth.
Local leaf casting
workshop planned
Dancing Oaks Nursery southwest of Monmouth will be the site of a concrete leaf casting workshop Saturday from 10 a.m. to 12:30 p.m.
Participants will learn the techniques to create their own concrete garden sculptures from leaves. Cost is $35 and all materials are provided. Preregistration is required for the class at 17900 Priem Road; class size is limited.
For more information: 503-838-6058; www.dancingoaks.com; email to dancingoaksnursery@gmail.com.
Historical Society
to meet Saturday
"Publishing in America: The History, the Present and the Future" is the program of the Polk County Historical Society meeting Saturday at 1:30 p.m.
The event takes place at the Polk County Museum, 560 S. Pacific Highway (99W), Rickreall.
Presenters will be authors S. Ruth Ely, local author of historical novels, and John Baker, Oregon author of nonfiction work. Both authors' books are available in the Polk County Museum book store.
Light refreshments will be served. The program is free to the public and everyone is welcome to attend.
For more information: 503-623-6251; email to pchsoregon@gmail.com; online at http://polkcountyhistoricalsociety.com/.
Wine auction will
aid area program
Tickets are available for the sixth annual Uncorked Wine Auction, a benefit for Family Building Blocks and its child abuse prevention program in Polk and Marion counties.
The event, slated for Saturday, takes place at Zenith Vineyard in West Salem.
Tickets are $200 per person or $2,000 for a table for 10 and include a winemaker's reception, gourmet multicourse dinner paired with critically acclaimed wines, a live auction, and music and dancing.
For more information: 503-566-2132, ext. 312; email to bgries@familybuildingblocks.com; www.uncorkedwineauction.org; www.familybuildingblocks.org.
Viticulture Center
slates open house
Chemeketa Community College's Northwest Viticulture Center will celebrate its 10th anniversary with an open house Tuesday from 4:30 to 7 p.m.
This event is free and open to the public. It will be held at Chemeketa Eola, 215 Doaks Ferry Road, West Salem. RSVP is requested by Friday.
The open house will include a tasting of student and graduate's wine, tours of the facility and a celebratory program that will begin at 5:30 p.m.
Chemeketa was the first academic institution in Oregon to offer a two-year AAS degree in viticulture and winemaking, launching its program in 1999. The program has been located at Chemeketa Eola since 2003.
To RSVP or for more information: 503-399-5139; email to vmw.program@chemeketa.edu.
Dance, food drive
scheduled Tuesday
Polk County France School of Dance will host its semiannual dance performance Tuesday at 6 p.m. at Talmadge Middle School, 510 16th St., Independence.
Students ages 4 through teens will perform tap, ballet, jazz, hip-hop and lyrical dances.
Admission is a $3 cash donation or three canned food items per person and per dancer. Proceeds benefit the Lions Club of Monmouth-Independence and Dallas Food Bank.
The studio has collected more than 40,000 pounds of food and thousands of dollars in cash donations through past events.
For more information or details on upcoming classes: Linda France Martin, 503-390-3481.