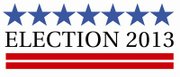 PERRYDALE -- Perrydale School Board candidate John Johnston sent a letter to district voters recently, expressing -- among other concerns -- an environment of "retaliation and intimidation" toward students by school administrators and staff.
That letter started a wave of reaction in the Perrydale School community -- including more letters refuting or supporting Johnston's claims -- all going to voters before Tuesday's vote-by-mail election.
John Johnston
Johnston was appointed to serve on the board about two years ago and is running against challenger Kirk Hutchinson to retain his seat (Position 5) on the board.
"Our four children have been attending Perrydale School since 2004," Johnston wrote. "However, I will be honest and tell you that we are seriously considering transferring them to another district until some of the concerns with the current administration are addressed.
"Retaliation and intimidation by the administration and staff to students in reaction to parent complaints is unacceptable and yet indicative of the current situation."
Johnston noted hearing complaints from his own children and other parents of teachers expressing political views in class, something he felt was inappropriate.
He said his children and wife, who works part time at the school, have been the target of retaliatory treatment.
"It's out of control," he said. "I'm not one to complain about stuff, but it's to the point where it's hard for my wife to go to work."
Johnston believes that treatment is in reaction to his opinion that the school board should seek concessions from staff through contract negotiations to help pay for the increasing cost of Oregon Public Employees Retirement System (PERS) expenses.
Johnston admitted that he had not reported to the district the issues he wrote about in the letter, fearing doing so would cause a negative reaction.
In response to Johnston's letter, Dan Dugan, president of the Association of Perrydale Teachers, drafted and distributed a letter on behalf of a majority of teachers at the school, calling Johnston's claims "divisive, unsubstantiated, (and) false."
The letter was signed "Perrydale Teachers."
Dugan said, to his knowledge, issues raised in the letter had not been reported to teachers, staff or administration at the school, and thus he felt compelled to respond.
Dan Dugan
He added the words "retaliation and intimidation" to describe actions of staff toward children and parents was especially troubling.
"We want to state emphatically for the record this is completely false and is hurtful to our staff," the response letter read. "We pride ourselves on proactively communicating with students and staff in a way which fosters a positive school culture and sense of community. `Retaliation and intimidation' towards children would not be tolerated by other teachers or administration."
Dugan said the letter's intent was not to endorse a particular candidate, but address what he believed were serious accusations directed at school staff.
"It was a concern that a sitting board member was bringing up concerns in a letter to voters that hadn't been addressed with teachers or administration," he said.
Dugan added in response to questions about possible election law violations regarding the letter that "Perrydale Teachers" is not a political action committee (PAC).
A PAC is a group that collects money to campaign for or against a candidate or measure. Dugan said the letter was written using no school resources and paid for out of his own pocket, making it an "individual expenditure" under election rules.
"We made sure that it was done away from the schools," he said.
As of Monday afternoon, no complaints were filed with the Secretary of State's Office.
Photo by Pete Strong
The race for Perrydale School District's board has seven candidates running for three seats, with both candidates and district teachers voicing concerns before the May 21 vote.
Hutchinson also sent a letter to voters, but it did not mention or respond to the issues Johnston voiced.
That isn't the end of the letter debate, though.
Two parents have also drafted and sent letters to voters, both supporting Johnston's claims.
One of the two parents, Jennifer Moran, a Perrydale Budget Committee member and parent of high school-aged students, said she felt the Perrydale Teachers letter unfairly characterized Johnston and it felt like a "personal attack."
"They discredit everything in John Johnston's letter," she said. "They are projecting an image of him and the school that was incorrect. ... They (voters) needed an objective view from someone with nothing to gain."
Moran said she believes Johnston's concerns are valid and that there had been instances of intimidation, an example of which forced her oldest child to transfer out of the district.
"Our family is not alone in this, as many parents have voiced similar concerns to me -- both in and out of board meetings," Moran wrote in her letter. "The teachers' denial of these experiences makes me feel that they are not willing to listen and address the real concerns of parents and students."
Johnston said last week, despite the controversy his letter caused, he still wants to serve on the board to help find a solution to the problems he believes exist.
"I hope that things can be different and a little easier for everyone," Johnston said.