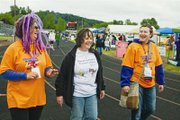 DALLAS -- In one 24-hour period last weekend Denise Mozal attended two Relay For Life events -- one in the Seattle area and the other in Dallas.
You would think Mozal would be exhausted after driving from Seattle to Portland Friday and then attending Polk County's Relay For Life Saturday morning in Dallas.
But Mozal is not your average Relay For Life supporter.
The "Mom on a Mission to Cure Cancer" has a goal to walk at one Relay event in each state.
Diagnosed with breast cancer in September 2009, Mozal attended her first Relay seven months later in her home state of Michigan.
She enjoyed the event and decided to walk with her sister and niece -- both cancer survivors -- at a second Relay in Indiana in June of that year.
Walking with her in the lap designated for cancer survivors was a young girl. The thought of a child so young battling cancer made Mozal angry.
"I saw that little girl and thought, you know I'm 50 years old," said Mozal, who is now cancer-free. "For me to have cancer is one thing. I saw that little girl and thought, no mom, no dad, nobody should have to sit and listen to someone say your child has cancer."
The thought sent her on a mission. She flew to see her daughter in Arizona later that October to walk in her third Relay For Life.
"I said 'Three states down, 47 to go. How hard could that be?'" Mozal said. "So I started walking."
Mozal's visit to Polk County's Relay makes Oregon state No. 16. Self-financed, Mozal has to take vacation days to attend Relay events, but hopes to be halfway to her goal by year's end.
Mozal walks at least three miles at each event and donates $100, but perhaps her biggest achievement is sharing the stories of the people she's met at the states she's visited so far.
She writes a blog chronicling people's stories of survival and determination.
"I write about their experiences and take pictures and share people's stories," she said. "I hope that someone will read it and go to the doctor, or they will talk to their doctor differently, or get a different doctor."
Dallas ended up on Mozal's itinerary because Polk County's Relay For Life was scheduled the same weekend as one in Washington, but she believes each appearance is destined. Perhaps, too, was her diagnosis in 2009 because it was what sent her on her 50-state trip.
"So many other people are not only going to touch my life, but they will touch others because I share their stories," she said. "I get to be the vessel that shares that with others. I write about as many people as I can."
By the end of her journey, Mozal will have walked 150 miles, donated $5,000 to the cause and written about countless inspirational people.
Mozal, however, feels like she's been given so much more in return.
"I'm very amazed by the people and very energized by their spirit," she said.
For more information: http://dmozal-cancer-walk-in-50states.tumblr.com.
Did You Know?
* The 2013 American Cancer Society Relay For Life of Polk County held Saturday and Sunday at Dallas High School raised approximately $82,000.