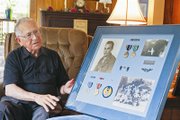 FALLS CITY -- Oct. 17 is a significant date for Falls City resident Leonard Lonigan.
That was the day his parents were married. And, in an eerie bit of foreshadowing, it was on that day in 1941 that his brother, Bill, who was in the U.S. Army Air Corps, was flying with his crew near Stayton when they had to bail out of their plane.
Lonigan, 91, would follow in his brother's footsteps in more than one way.
Just months after Pearl Harbor was bombed, Lonigan -- who goes by Len -- was just 20 years old, a student at the University of Oregon. Soon, though, he would sign up for a different calling.
"Pearl Harbor happened December of 1941 and I think the Air Corps recruiting people came around in February or March of '42," he said.
The nation was at war, so without a second thought Lonigan signed up and was soon off to flight training.
"Once we could land safely, we were moved through," Lonigan explained, adding he went through testing to determine where he would best serve in the Army Air Corps.
There were no guarantees he wouldn't be rejected or "washed out." He recalls watching the reactions of the young men after they had met with the group of Air Corps officers making those decisions. Some were elated and others were dismayed. Lonigan was last in line.
"I went in and they said `Mr. Lonigan, the last guy in, we automatically wash out,'" Lonigan said. "I kind of gave them a grin. And they said, `No, you've done very well.'"
Lonigan's test results indicated he would be best suited to be a B-24 bomber navigator in a bombing squadron, so he elected to go to navigation school.
B-24 bomber
He was assigned to a bombing crew after graduation and it was off to Europe. Lonigan and his crew had the classiest of rides across the Atlantic -- The Queen Elizabeth. They also had some A-list entertainment as the Glen Miller Band was along for the voyage.
It was several weeks after landing before Lonigan's crew would move to England, its home base for the duration of its mission. In that time, they were prepared for what would happen once they saw action.
"We saw one movie on bailing out," Lonigan said. "It was kind of interesting."
While waiting to fly his first mission, Lonigan heard stories about the war and witnessed the toll the war had taken on England.
"They told us some hair-raising stories that we hoped weren't true," Lonigan said.
Soon, Lonigan would have a collection of his own thrilling tales to share, beginning with his first mission.
That flight was the first time his crew had flown on a B-24 above 20,000 feet. Flying at that altitude required oxygen masks - something they didn't have much training with - and heavy heated suits to ward against subzero temperatures.
Lonigan struggled to make his oxygen mask work and nearly slipped into unconsciousness. To make matters worse, the two lead planes of the 37-plane formation were shot down. As a first mission, it was far from ideal, but perhaps good preparation for what would happen on Oct. 17, 1944.
"We were going to Cologne, Germany," Lonigan said. "That was a pretty tough target. (It was) well defended, a big city, lots of heavy rail. There was lots of ammunition there."
As feared, the squadron was under heavy antiaircraft fire when the copilot of Lonigan's plane, the Lucky Penny, saw the signal for "bombs away" - a smoke bomb dropped from formation's the lead plane. He told the crew's bombardier to release the plane's cargo. Lonigan said the bombardier opened the first of three bomb doors before the pilot declared the signal false. German soldiers had sent up a smoke bomb, a tactic used to trick bombing crews into dropping too early.
Courtesy of Leonard Lonigan
Lonigan's (right) Army Air Corps service took him to England, where he flew on 35 bombing missions into Axis territory before returning to the U.S. as an instructor.
"One bomb had left the plane," Lonigan said, recalling a story he's told countless times. "After that left, an 88 mm shell came up through the (bomb bay), through the main gas line and exploded above the plane. Hardly any damage to the plane ... if you didn't consider an 88 mm shell through your main gas line damage."
The plane would not make it back home, but the crew had more pressing problems to worry about. They turned off their electric heated suits and plane radio for fear of sparks igniting leaking gas and blowing them out of the sky.
One of the crew members heroically tried to stop the gas leak, stuffing it with whatever he could find, but to no avail.
It was up to the pilot and copilot to keep the plane in the air and Lonigan to get them to a safe point to land or bail out. He gave a heading for Belgium.
"I know if we go due west, we will be in good shape eventually," Lonigan said.
The only problem was with heavy clouds below them, they couldn't see where they were. The pilot flew beneath the clouds and into a terrifying sight.
"When we came out, I have never seen or imagined a place with so many German tanks," Lonigan recalled, adding they were gearing up for the Battle of the Bulge. "So here's this whole bunch of German tanks and, an unfriendly bunch, they started shooting at us."
They flew back into the clouds briefly before coming down again. This time they saw a Belgium flag flying. They were behind the Allied lines - time to bail out.
By protocol, the navigator is the first to bail, so Lonigan was first out. Having only seen one video on bailing out, he wasn't so sure what to do.
He left it in the hands of fate and slid out of the plane, luckily clearing safely and pulling his parachute.
Lonigan did remember one detail: "One of the things they told you is don't look down. So I thought I would look down to see why ... the ground was coming up extremely fast," he said.
The entire crew made it out safely, but Lucky Penny's luck ran out; the plane exploded on impact.
Lonigan and two other crew members landed in a farm field and were directed to a military base by Belgim farmers. It took a few days, but the entire crew made it back to England, where a new plane and more missions awaited them.
Lonigan's last flight was in February 1945. After that, he returned to the United States and served as a navigation instructor until the war ended.
In 1986, the seven remaining members of the crew had a reunion, but today Lonigan is the only crew member still alive.
He and his wife, Marjorie, moved to Falls City in 2006, after Lonigan spent 55 years working as a school supplies salesman.
Lonigan's daughter, Kay Dixon, said she grew up hearing her father's stories and doesn't let him get away with being humble.
"The heroes were all on the ground," Lonigan insists.
"I would say anyone who gave up their life to go over there was a hero," Dixon said in response. "He says he's not a hero, but he's been my hero all my life."
More like this story