INDEPENDENCE — Manufacturing is picking back up, meaning industry jobs are available again, but finding people to fill those jobs is proving difficult — at least for one Independence business.
"The problem is getting applicants that are qualified," said Tyler Kuenzi, Elkay Wood Products assistant plant manager in Independence. "And we're not talking about a lot of extensive knowledge, we're talking about that basic, knowing how to show up to work."
Elkay Wood Products is hiring about 50 people, which will double its workforce since the economic downturn started in 2008.
Gov. John Kitzhaber visited with Elkay staff on Thursday to hear about the challenges the factory faces in recruiting — and keeping — bodies on the floor.
"I'm interested in the workforce challenge you have," Kitzhaber told Kuenzi. "We're going around the state, and obviously, it's ironic that we have open jobs and we have high unemployment."
The issue is one that faces industry and manufacturing nationwide and across the board, not just Elkay, said Phyllis Roth, vice president of human resources for Elkay.
"There's a lack of preparation for our young folks," she said. "Some of the programs they used to have (in school) to get into the trade areas, like woodworking, (schools) lost those funds years ago."
But people don't have to be trained in woodworking to land a job at a place like Elkay.
In growth periods, like the one they are experiencing now, Elkay has a higher employee turnover rate, Kuenzi said. He estimated the rate at about 61 percent.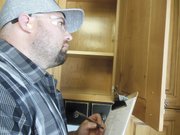 The No. 1 reason for people leaving the company is termination because of attendance problems.
Roth said it is, in part, a sign of the times.
"When I was growing up and 15, and told my mother I wanted to buy special clothes, she said, 'Get a job,'" Roth said. "Today it's a little different. Our kids are involved in so many things, it's difficult for them to hold down a job in high school."
Some seem to have no desire to work, Kuenzi said.
"Is it too easy to get a handout?" he asked. "Going from unemployed to working, that's a big change. You've been sitting around for months or years, and suddenly you need to go out and get a job. It's a lot of hard work; some people aren't willing."
Danell Butler, manager for the Oregon Employment Department in Marion, Polk and Yamhill counties, said it depends on the person.
"You can see the reports of the younger generations and the work ethic question," she said. "It's kind of all over the place. No matter where you go, you have some people with some really strong work ethic in the community, and those are probably the folks that are working."
Conversely, there are people who struggle keeping a job, Butler added.
With unemployment in Polk County down nearly a full percentage point – from 7.6 percent last June to 6.5 percent this year – fewer people are looking for work, she said.
Roth said the industry is working to help make the transition easier, getting people used to the idea that they have to show up to work five days a week, eight hours a day. On the factory floor, those eight hours are on their feet, too.
Free workshops and help also are available at Worksource Oregon, which has an office in Dallas, Butler said.
"Once somebody attends a class, they can kind of understand why they're having a little struggle and challenge, so they can make changes and keep a job," she said.
Although the company does use some seasonal employees during the summer, 90 percent of the jobs are permanent and full-time, Roth said.
The company offers an average wage of $14 to $15 an hour, starting between $10.25 and $12.25 an hour, Kuenzi said, complete with benefits.
Considering the alternative – cutting the workforce through layoffs and having slow business – this is a great problem to have, Roth added.
"I'd rather have these issues any day of the week than have unemployment and lay people off," she said.
For some people, manufacturing is satisfying work, Roth said.
"There is excitement about making a product and, look what I just made," Roth said. "Some people love to feel and touch what they just produced."
Meanwhile, it's a partnership between the employment office, industry, schools and parents to come together and make sure young people are ready for the workforce, Roth said.