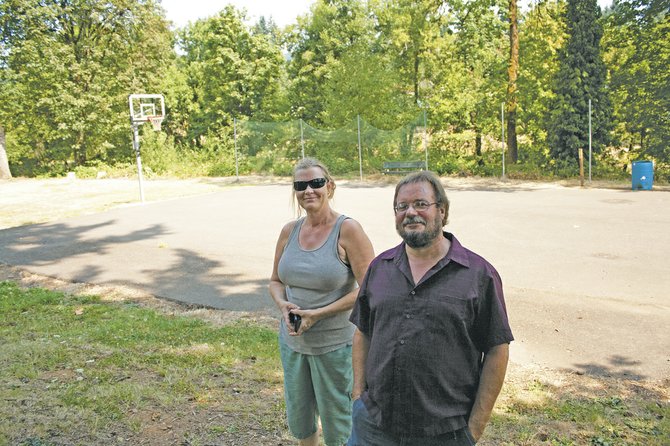 FALLS CITY — Falls City's Fay Wilson Memorial Park, commonly referred to as Lower Park, will be the site of improvements thanks to a Ford Institute Leadership Program class project kicking into fundraising mode next month.
A new basketball court and hoops were recently installed in the park, but the planned chain-link fence was only partially completed and the court doesn't have adequate lighting.
The leadership institute class — comprised of Falls City and Dallas community members — hopes to change that through a fundraising effort in September.
Leadership program training class members attended a series of workshops starting last February to help participants learn to use collaboration, consensus building and strategic planning.
"One of the (objectives) is add to the vitality and leadership capability in rural communities," said Ami Keiffer of Rural Development Initiative, the organization leading the classes on behalf of the Ford Foundation.
As part of the training, each class choses a project — in this case two, one in Falls City and one in Dallas — to put those skills to practical use.
"It's to teach you the resources for writing grants and the process," said Terry Ungricht, a class member and Falls City city councilor. "It's very informative."
In Falls City, Ungricht said the hope is to install electricity to provide a light for the basketball court in Lower Park and finish the chain-link fence. If funding allows, the group would install a second electrical outlet.
Dallas' portion of the project will install three interpretive signs on the city's Rickreall Creek Trail at the path's intersections with Levens Street, Main Street and LaCreole Drive.
The signs will include detail about the natural features, Dallas history and maps of the trail.
Fundraising for the projects will begin soon, with a planned silent auction at Pressed Coffee & Wine Bar in Dallas on Sept. 18.
"(We want) to raise as much as we can. The Ford Foundation will match up to $5,000," Ungricht said. "They are both good projects."