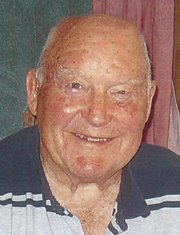 Friends and family of Ralph W. Thompson of Dallas are welcome to help celebrate his 90th birthday Saturday, Aug. 23, from noon to 4 p.m. at a gathering featuring cake and beverages at the Dallas Masonic Temple, 140 SW Clay St.
RSVP is requested by Aug. 20 to Faye Trupka via email to ftrupka@gmail.com.
No gifts are requested; cards are welcome.
Ralph was born Aug. 24, 1924, in Harvard, Idaho. He has resided in Polk County since 1946. He retired in 1984 as a maintenance supervisor for Boise Cascade.
Ralph is a member of the Masons, Shriners, Eastern Star, Mary's Peak Trek, Scottish Rite Temple and Veterans of Foreign Wars. He enjoys gardening, fishing, hunting, computer email and games, and watching "Judge Judy" on TV.
His family includes his wife, Norma; children, the late Jim Hagan, Faye Trupka, the late Bob Thompson, Kathy Thompson and Patricia Schierling; and stepchildren, Connie Welch, Scott Dolan, Tonja Boyd and Tammy McClure. He has 19 grandchildren, 25 great-grandchildren and two great-great-grandchildren.