Summertime … and the living is busy these days in MI Town, as families begin to make preparations for their sons and daughters for another year of school.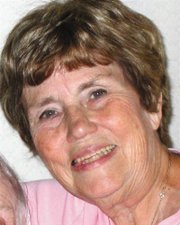 Whether your child is excited about his or her first day of kindergarten or you are busy helping your off-to-college student load the car for their university experience, this is the time of year when emotions run high and just about any sentence spoken can be filled with both tears and laughter.
Labor Day weekend is just a few days from now, and is generally thought of as the end of the summer season. But for some of us diehards who wish for endless summertime, it's a gateway to a wonderful autumn season of cool mornings and evenings, with sunshine in between.

There are fresh, red tomatoes from the garden for sharing and eating, drying and freezing. The apple trees are nearly ready for picking, and the grapevines are loaded with fruit for eating and jelly-making.
When Old Man Winter appears in several months, we will remember these summertime days with every bite of goodness from our backyard gardens, trees and arbors.
—
During these wonderful late summer days, memories can be made that last a lifetime — picnics in the park, swimming and hiking, water skiing and kayaking, building bonfires at the beach and sharing sticky (and sandy) s'mores with friends. Those are the good things. Unfortunately, those memories can disappear in an instant and be replaced with sadness and grief when car crashes occur and lives are forever changed. Please be careful on the roads and highways this holiday weekend, and don't even think about drinking and driving.
—
Grab the picnic basket and round up the family for Wednesday evening's Music in the Park concert featuring Coming Up Threes, a Celtic group. The fun begins at 6:30 at Main Street Park in Monmouth.
—
My absolutely favorite summer event of the year is here — and it's even more spectacular than ever.
The Oregon State Fair began last week at the state fairgrounds in Salem, where there is something truly wonderful for people of all ages. A day at the fair is quite unlike any other — with so many opportunities to have a great time.
I remember my very first state fair when I was a 4-H kid, how exciting it was to spend some of my berry and bean picking, and chittum bark money — anybody remember what hard work that was? — on corn dogs, curly fries and elephant ears. It's good to know that some traditions are just as enjoyable no matter how many years have passed.
See you at the fair!