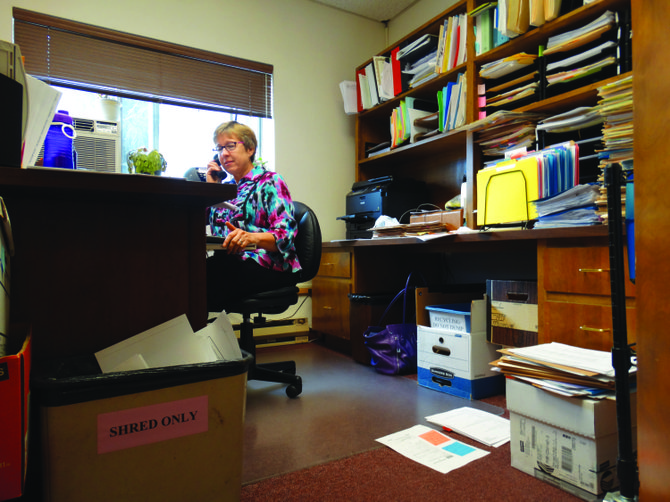 MONMOUTH — The city of Monmouth wants a new city hall — or at least a remodel of the current one on Main Street in downtown.
The city council discussed options for upgrading city hall facilities at a work session on Aug. 19, including how to pay for them.
The council directed City Manager Scott McClure to go ahead with getting rough space planning and targets from an architect to explore different options, as well as the impacts of those options.
The existing city hall building is small, McClure said.
"Pretty much every system in the building is deficient," he said. "The records are down in the hall — there are a lot of issues there. Configuration-wise, the downstairs is crowded as all get out. There's no waiting room."
Councilwoman Cec Koontz said she was worried about the safety of the building as well as the perception of any developers who walked into city hall.
"It's deplorable," Koontz said of city hall. "It's embarrassing. You have to weave your way through people."
A new city hall is important to the branding of the city, she added.
McClure said the city could remodel the current building, expanding it toward Warren Street.
"That would be a nice (option) because you could eventually tie everything back together," McClure said, noting that city hall could be closer to Volunteer Hall. "The other (option) would be to wipe that building off the face of the earth and build a brand new building, a new city hall, somewhere else."
A third option involves using Volunteer Hall, either remodeling it or building around it and up two or three stories, as the new city hall location.
All councilors agreed that city hall should remain in downtown because people have to come pay bills and do other business at the building.
"It brings people here downtown during the day," Koontz said.
"It needs to stay downtown because it's a traffic-driver," Mayor John Oberst said in agreement.
A few options were listed as to how to pay for the renovated or new building, including a general obligation bond — which McClure said was something the city would most likely avoid — partnering with a private developer, going to a bank for a loan, using urban renewal money, or funding the development internally.
"The key is, city hall is headquarters for all city functions," McClure said. "Power and Light has enough (money) to just absorb that."
Monmouth Power and Light has a contingency fund of $7.3 million, McClure said.
"Even with an (estimated) $1.5 million loan, we're still sitting on beyond healthy reserves," he said after the meeting. "It's a viable discussion point."