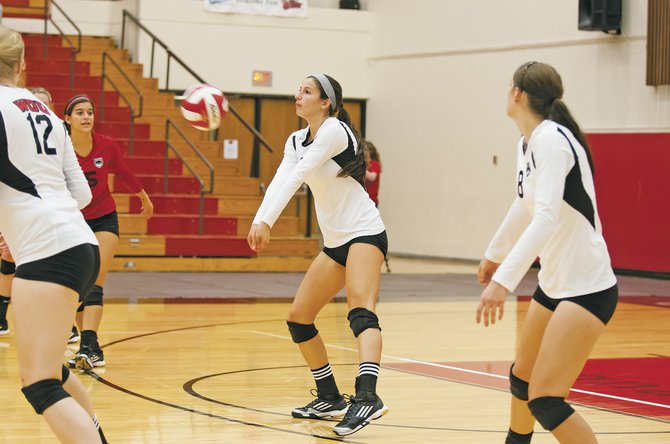 MONMOUTH — There's a phrase the Western Oregon volleyball team introduces new players to, a way to break the ice among new teammates.
"It's not cool to be cool," senior opposite hitter Hannah Deede said. "It's a big phrase for us. We want everyone to be open to be themselves with no judgment. You can be weird and be yourself. It helps with the chemistry and helps players play to the best of their ability."
In a sport where each player on the court must be on the same page, establishing chemistry is key.
This season, that motto may be more important than ever.
After a 2013 campaign that saw Western Oregon finish 10-18 overall, the preseason coaches' poll tabbed the Wolves to place sixth in the Great Northwest Athletic Conference.
Western Oregon isn't ready to accept that.
"I think we're going to surprise a lot of people," WOU coach Brad Saindon said. "I think we're way better than sixth and I think we'll be in the hunt for a conference championship."
Senior setter Jordin Ramos, who averaged a team-high 5.21 assists per set in 2013, will lead the Wolves on the court.
"She's the quarterback or point guard for our team," Saindon said. "We're pretty excited to have a senior setter. She's popular amongst her teammates and she's just a really, really good volleyball player."
Deede, who was invited to take part in the U.S. Collegiate National Team program, senior outside hitter Samantha Moore and senior middle blocker Cherene O'Hara, along with sophomore outside hitter Christie Colasurdo, will form the core of the Wolves' lineup.
"I think Hannah is going to have a really good year, and her being a part of the U.S. Collegiate National Team is a great honor for her and our program," Saindon said. "We have our four seniors returning in key positions and I think that's a big advantage for us."
The seniors are looking to end their careers at WOU with something that has eluded the Wolves: a conference title.
"We put in a lot of work," Moore said. "This offseason was the most difficult I've ever had. We've improved so much during the offseason, we can't wait to see what we can do this fall."
The seniors led spring practices five days a week while playing matches each weekend, leading to players arriving this fall in better shape than ever before.
But on a team where 14 of 18 players are underclassmen, Western Oregon needs new faces to step up in a big way to be successful.

"We have our four seniors and Christie, who are pretty solid in their positions," Saindon said. "Now we have to fill in the gaps with the other girls."
Among those athletes Saindon will be leaning on are several true freshmen, including setter Kiana Cash, libero Sheila Limas De La Cruz and defensive specialist Jaryn Ramos.
Despite a lack of collegiate experience, the newcomers are impressing teammates.

"The freshmen are all phenomenal athletes and they're just as excited about this team as we are," O'Hara said.
With so many underclassmen, the Wolves are hoping a strong team bond will make up for a lack of experience. That's what makes the team's unofficial motto a theme they live by this year.
"They don't have to impress anyone," Jordin Ramos said. "We're all family here. We just tell them to embrace the struggle. When we work together, it shows up on the court."
Saindon said this team is already shaping up to be the closest he's ever seen. And that will make the Wolves a force to be reckoned with this season.
"I like the schedule we have," Saindon said. "I like everything that's happening so far. It's really unbelievable. I've coached for a long time and I've never coached a team like this. Their affinity for one another is heartwarming. I think we'll surprise a lot of people."