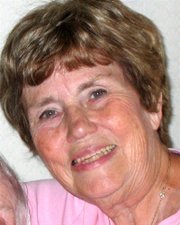 We've turned the calendar to a new page — and it's already December!
Some of us still have Halloween candy in the back of the pantry, and we are trying to think of new and exciting ways to finish off the last of the Thanksgiving turkey using yet another recipe discovered online.
Although we've been bombarded for days with advertising on television and radio, it's hard to believe that it truly is the Christmas season. I've known people who actually address Christmas cards during Thanksgiving weekend and have their shopping already finished — but it hasn't happened in our house yet, and odds are it never will.
—
The Friends of the Monmouth Public Library book sale began Tuesday and will continue through Dec. 20, during the hours the library is open. Books for sale are located on the "Ongoing Sale Shelf," located just inside the main door by the desk. If books are on your Christmas gift list, you'll find a great selection at very reasonable prices — and you won't have to hassle with driving to the mall. The holiday sale always has great books — some of them are new or gently-used — and it's been my go-to spot for Christmas presents for a long time.
—
The Monmouth Garden Club's holiday greens sale is now underway at Central Baptist Church, 655 S. Pacific Highway (99W). Sale hours are Wednesday (today) and Thursday from 10:30 a.m. until 6 p.m. The last day of the sale will be Friday from 10 a.m. until noon. If you've never seen the incredibly gorgeous wreaths and other Christmas décor made by club members for this special season, prepare to be amazed. Custom designs are available by calling Diane Ostrom at 503-838-2980.
The Monmouth Garden Club is celebrating 50 years of doing many good things to beautify our community. The club has also contributed funding for several projects, most recently in Madrona Park.
—
Be sure to mark your calendar for this Friday for the annual Christmas Tree Lighting ceremony on the Western Oregon University campus. It's a wonderful evening for everyone, with both indoor and outdoor singing and holiday celebrations. The festivities begin at 5 p.m. in front of the Administration Building.
—
The Monmouth Senior Center's monthly community breakfast will be held Saturday from 8:30 to 10:30 a.m. Here's your opportunity to begin a busy day with an excellent meal provided by volunteers at a reasonable price — $6 for adults and $3 for children. "Crafter's Cottage" will be open so you can find special and unique handcrafted gifts for everyone on your list. See you there.