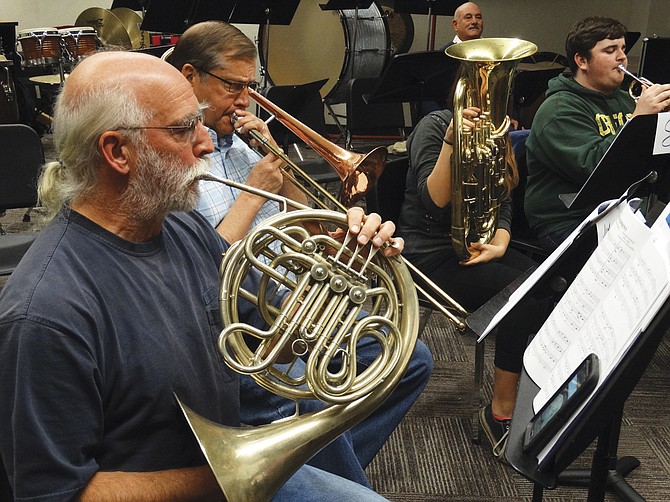 INDEPENDENCE — Music comes from Central High School's band room Monday nights, but it's not from high school students.
"The New Horizon's bands and orchestras started about 20 years ago by Roy Ernst," said Paul Doellinger, clarinet player in the orchestra. "He was doing a project to see if older adults can learn to play musical instruments."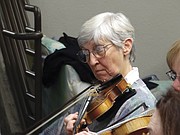 Prior to Ernst's endeavors, the common knowledge was that if someone didn't learn to play an instrument by the time he or she was 10 years old, it was too late, Doellinger said.
Doellinger, 71, has been playing the clarinet for seven years.
"I'd never played a clarinet before in my life," he said. "It's really a beginner's band."
The music is rough around the edges, but the musicians making it are united in their adventures with the orchestra. Each try during rehearsal, it sounds better.
Bobbie Gates, 70, started the orchestra in Monmouth with her husband, Bill, 70, about six weeks ago.
"I've always loved orchestra music," she said. "I had never played before."
Bill Gates, a trumpet player, had played in an orchestra when the couple lived in Iowa and invited her to join him.
She dug out her son's flute that he had played in grade school, Bobbie recalled.
"I've had a couple flutes since then," she said, now in her ninth year playing the instrument. "The first day someone told me, 'sit and listen, and if you see a note you know, play it.'"
Many in the New Horizon's Orchestra have some experience playing an instrument, though it has been decades. Others had not touched an instrument until now.
Gene Dershewitz, 67, provided low tones for a piece from "Les Miserables." He decided to learn to play the French horn a few months ago.
"This is my first time here," he said. "It's a good opportunity. I just took this up six weeks ago. I just love the sound of it, but I need to work on it."
Jim Simila, 66, played the same trombone his parents had bought him when he was in high school 48 years ago. His son had played it at Central High, and now Jim is picking it back up again.
The group is very social, Bobbie Gates said.
"That's a big part of it," she said. "Some are more talented, some not so talented, but the more talented ones take care of the ones who aren't as talented."
Learning an instrument and playing as a group has benefits, too.
"It has all kinds of benefits. Sharpens our brain, and gives seniors something to do," Doellinger said.
A public recital is planned for some time in February.
Join the Orchestra
What: New Horizon's Orchestra.
When: The group rehearses on Mondays from 6:30 to 8:30 p.m.
Where: The band room at Central High School, 1530 Monmouth St., Independence.
Cost: Free.
Of note: No experience is necessary. The group is intended for those aged 40 and older, but anyone who is serious about orchestra music is welcome to join. For those who don't have a musical instrument, other musicians in the orchestra may have something to use or an instrument may be rented from area music stores.
For more information: Paul Doellinger, 503-838-4884.