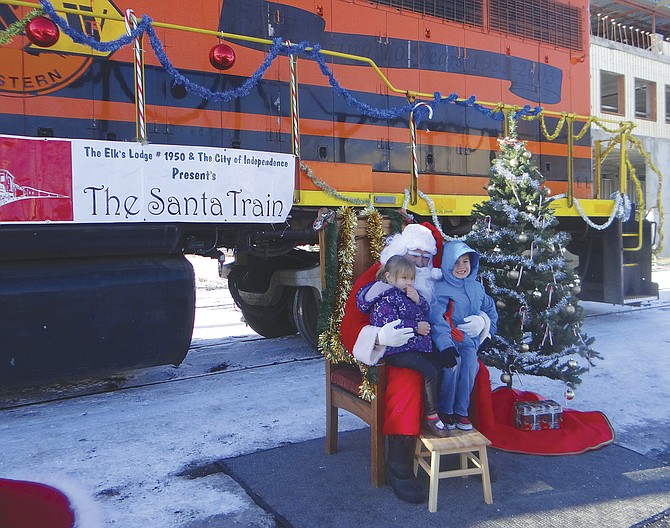 POLK COUNTY — Polk County rings in the start of the Christmas holiday season with events in all four of its cities, leaving no room for those with a Grinchy disposition.
The big man in the red suit himself will make appearances, checking his list twice, seeing who's been naughty or nice, and who's been mostly good.
The festivities kick off on Friday in Dallas and Monmouth with entertainment, shopping and warm drinks to keep hands and spirits bright.
Falls City and Independence celebrate the start to the season on Saturday. Santa will skip his sleigh in favor of train Saturday afternoon in Independence.
DALLAS
Dallas' annual holiday kickoff celebration, Winterfest, will begin Friday at 5 p.m. at the Polk County Courthouse square.
Winterfest revelers can enjoy cookies, hot cocoa and cider, and do a little shopping while waiting upon Santa's arrival to light the downtown tree.
New to the event this year is the Monkeys with Tools booth, offering ornament making for youngsters interested in doing a little holiday crafting.
At about 5:30 p.m., Dallas High School's wind ensemble will provide live entertainment and caroling. With about 15 Winterfest vendors and downtown businesses open, people can partake in holiday shopping while waiting for the Jolly Old Elf's appearance.
"They will have a lot of handmade items," Chelsea Pope, executive director of event host Dallas Area Chamber of Commerce, said of the vendors. "Good stocking stuffer kind of stuff."
When Santa joins the festivities — at about 6:30 p.m. — he will light the sequoia tree on the courthouse lawn and then stay to visit all the children who want to tell him their Christmas wishes.
Ice and snow cancelled Winterfest last year, so Pope has been watching the weather report closely this year.
"It looks like it will be a wet Winterfest," she said. "Better than freezing."
MONMOUTH
Monmouth Hometown Holiday Celebration begins in Monmouth on Friday, highlighted by the 47th annual Holiday Tree Lighting.
Start the evening with hot chocolate, warm cider and other treats from downtown businesses before watching the parade make its way from Monmouth Public Library toward Western Oregon University at 6 p.m.
The giant sequoia near WOU's Werner University Center will be lit at 6:30 p.m., followed by choir performances from Central School District elementary schools. Inside the Werner Center, cookie contest entries will be available for sampling while supplies last.
Holiday crafts will provide family fun before Santa Claus makes a visit so children may bend his ear.
At 7 p.m., the Historic Gentle House, 855 N. Monmouth Ave., will host a holiday open house. Enjoy warm drinks, appetizers, treats and wine provided by Namaste Vineyards. The event follows the tree lighting and is free. For more information about the Gentle House: 503-838-8673.
INDEPENDENCE
Independence's Ho-Ho-Holiday will kick off in Independence on Saturday from 1 to 3 p.m. with Santa arriving by train to Independence Cinema, 450 S. Second St., to give children younger than 12 a small gift.
Refreshments will be available at the event, as well as other activities for children.
From 2 to 3:30 p.m., Lion's Share Coffee House and Bakery will host cookie decorating for kids.
The Polk County Service Club will serve a free dinner at the Independence Women's Club clubhouse, 340 S. Third St., from 3 to 5:30 p.m.
Vehicles and people decked out in sparkling lights will head down Monmouth Street toward the Independence Civic Center at 5 p.m. for the annual Parade of Lights. Some downtown businesses will be open while people wait for the parade.
An open house at the civic center will follow the parade from 5:45 to 6:30 p.m. There, tasty treats for all will be served. Parade winners will be announced.
FALLS CITY
Saturday, Falls City will kick off the holiday season with its third-annual Christmas tree lighting at Mountain Gospel Church, 304 N. Main St.
This year the tree lighting, which will begin at 6:30 p.m., will be followed by a showing of the documentary "Going Home," about the former company town of Valsetz located southwest of Falls City, which was torn down in 1984.
The documentary will begin at 7:30 p.m. at the church, followed by a question-and-answer session with the filmmakers.
Refreshments, campfires and Christmas caroling will be part of the tree lighting event, which drew about 200 people in its first year, but attendance fell last year due to the bitter cold weather that cancelled other holiday events in the area.
Event co-coordinator Tony Drill is hoping the event will return to its first-year form Saturday.
"I'm hoping with the tradition of it, hopefully we can get 200 people again," he said. "It's a good time to do the traditional lighting, have refreshments and talk. It's a community event. It's at our church, but this is for anybody."
Check It Out
DALLAS
Winterfest
• Friday, starting at 5 p.m., Polk County Courthouse lawn area.
—
MONMOUTH
Monmouth Hometown Holiday Celebration
• Friday, starting at 6 p.m., downtown Monmouth and Western Oregon University areas.
—
INDEPENDENCE
Independence Ho-Ho-Holiday
• Saturday, starting at 1 p.m., outside Independence Cinema and in the downtown area.
—
FALLS CITY
Community tree lighting
• Saturday, starting at 6:30 p.m., outside Mountain Gospel Church.