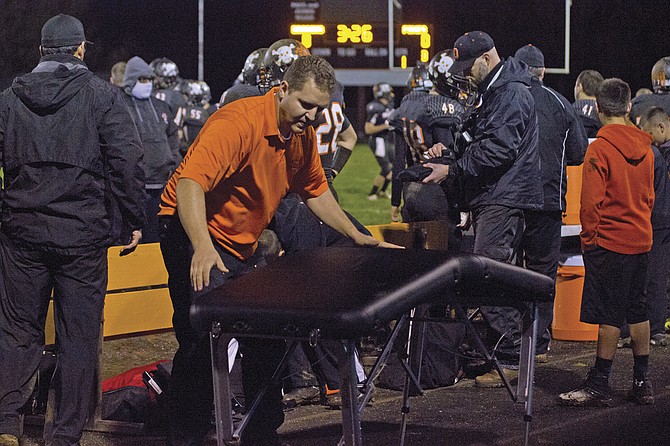 POLK COUNTY — Whenever Central High has a home game, one man shows up before anyone else.
It's not a coach or a player. It's athletic trainer Jeremy Ainsworth.
"For the most part, I get to the school at 3 p.m. and set up the training room for different kinds of treatment and any equipment we might need on the sideline," Ainsworth said. "The kids show up at about 3:30 for any treatments they need. At 4 to 4:30 p.m., we tape athletes for pre-game activities."
According to an article from The Huffington Post, 55 percent of high school students have access to a full-time athletic trainer. Athletes without access to athletic trainers are three to five times more likely to have recurring injuries, according to a study from the American Academy of Pediatrics.
Ainsworth and Dallas athletic trainer Brent Darrington are doing everything they can to help keep their student-athletes healthy, despite having limited time because of their schedules.
But having a trainer available, even part time, is invaluable, Central High athletic director Shane Hedrick said.
"Having a certified trainer available to athletes is like having 24/7 fire and medical responders to the community," Hedrick said. "It's a no-brainer. Jeremy is a blessing to the student-athletes of the Central School District. We just couldn't get along without him."
During non-game days, Ainsworth and Darrington spend much of their time working with athletes on small injuries and taping athletes.
"(I see) sprains and strains mostly," Darrington said. "I see a lot of issues with inflexibility at times."
During games, the ability to keep athletes from further injuring themselves must be made quickly and objectively.
"It isn't an exact science at all, mostly it's a gut feeling based on what science states, what my hands and special tests tell me, what my history is with that particular athlete and what that athlete can functionally do," Darrington said. "This has to be decided in a matter of minutes, by the way, as there are other athletes there that need answers."
The ability to make decisions on whether a player can return may be the most difficult part of their jobs.
"That's part of the profession," Ainsworth said. "You have to be that person that's there to give information and to give them justification why you make a decision. You develop that relationship, and the kids trust you and the parents trust you. It doesn't make it any easier, but it's the right thing to do."
Part of that trust stems from talking with each coach before the season to develop a line of communication, as well as keeping an open dialogue with athletes and parents.
That trust plays a big role during games, when trainers must make decisions on short notice.
"Brent is sharp and sees things for what they really are," Dallas football coach Tracy Jackson said. "He cares for the welfare of our kids, but does not baby them. He is extremely competent and I trust what he says about every situation we have faced."
Increased focus on safety has helped bring injury prevention to the forefront. But it can sometimes have the opposite effect.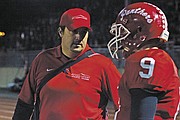 "In football, for example, the equipment is better, but that also means the athlete feels more indestructible and they hit harder or use poor techniques at times," Darrington said.
Despite increased education about injuries, serious injuries will always occur.

"We had a local athlete who had a concussion and tried to play through it," Darrington said. "That happened last year, and she's still not doing well. I wish families and coaches and the athletes themselves could truly understand how devastating a concussion can be. We've gotten used to calling it a 'bell ringer' or a 'snot bubbler,' that it's almost become a joke. … The brain isn't a muscle that can be bruised and beaten and then willed into action."
Another kind of injury is becoming more common, one that has its roots in youth sports.
"I think overuse injuries are something that is showing up more," Ainsworth said. "You have early specialization in sports and they do it all year long. That sets kids up for failure. Their bodies get stressed in the same manner. I'd rather see it broken up and let the kids be kids and just have fun."
Once an injury occurs, trainers work to personalize an athlete's path to returning to playing time, but it can be a long process.
But it's the recovery that makes it all worth it.
"That's probably one of my favorite parts," Ainsworth said. "You have an athlete who is at one of their lowest of lows when they get hurt, and you work with them over time to get them back onto the field. It's a rewarding experience."