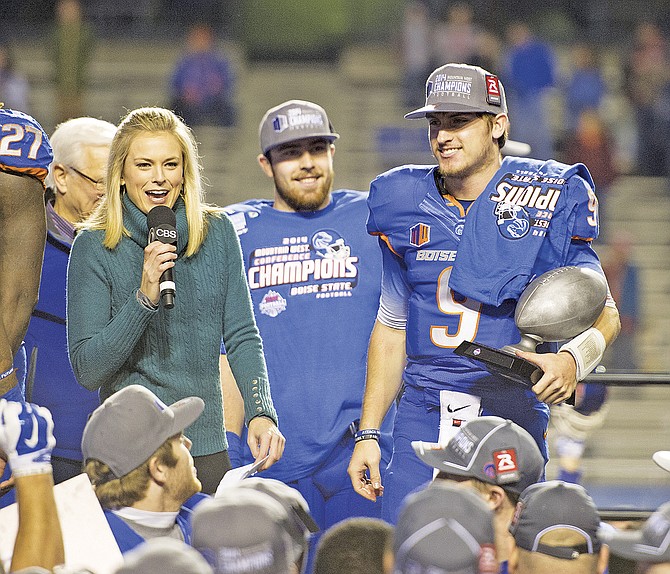 BOISE, Idaho — On Jan. 1, 2007, Grant Hedrick watched a little-known school named Boise State shock Oklahoma, thanks to a certain trick play, in the Fiesta Bowl.
"Obviously, people remember the way it ended with the Statue of Liberty," Hedrick said. "The game for me is where I first remember hearing about Boise State on a national level. It kind of put them on the map."
Little did he know that their paths would cross in a big way.
Nearly eight years later since that Fiesta Bowl victory, it will be the Central High graduate's turn to lead the 20th-ranked Broncos against No. 10 Arizona in the Fiesta Bowl on New Year's Eve Day at 1 p.m.
"What a way to finish my college career," Hedrick said by phone on Monday. "It's something I dreamt about as a kid. It's a great opponent and a big challenge. It's a great opportunity."
Boise State defeated Fresno State 28-14 in the Mountain West Conference Football Championship game Saturday night. Hedrick threw for 155 yards and rushed for 86 yards and two touchdowns, accounting for more than 75 percent of the team's total offense, earning him Most Valuable Offensive Player honors.
"It was pretty emotional," Hedrick said. "It was my last game on the blue turf — and to win a conference championship and to (get a chance to) play in a big bowl game, it was exciting."
The past two seasons have been an up-and-down ride for Hedrick. Longtime coach Chris Petersen left to coach Washington, and the Broncos opened the season with a 31-13 loss to Mississippi. But Hedrick and his teammates refused to let that derail their plans.
"The last year has been crazy, but it goes to show the culture we have, and the type of team that we have and the brotherhood kept this team together," Hedrick said.
Through it all, the Broncos didn't lose sight of their ultimate goals.
"… it validates what these guys heard when coaches came and said when they recruited these players," Boise State coach Bryan Harsin, who took over for Petersen, said. "You come to Boise State and you have a chance to play in championships. And if you go out there and play well in the season you have a chance to play in a big bowl game. It's exactly what they visualize when they come to Boise State."
It hasn't been all smooth sailing for Hedrick and the Broncos. But Hedrick and the Broncos were relentless, thanks to what he says has been a key to his success through the years.
"I always had that chip on my shoulder," Hedrick said. "Going out every day, that helped me get through the ups and downs of playing college football. If you keep working, good things are going to start happening."
Central High Athletics Director Shane Hedrick, Grant's father, remembers watching that fateful Fiesta Bowl game nearly eight years ago with his family.
"It has been an amazing experience watching and supporting Grant though his time at Boise State," Shane Hedrick said. "It was only after the game on Saturday did we realize the magnitude of the game Boise will play in on Dec. 31 versus Arizona."

The Wildcats will pose a big challenge for the Broncos on both sides of the ball, but for now, Hedrick isn't worried about that too much. For at least a moment, he is letting it all soak in that nearly eight years after watching Boise stun the college football world, it will be him leading the offense in that same bowl game.
It's A Fiesta
What: Vizio Fiesta Bowl.
When: Dec. 31, 1 p.m.
Where: University of Phoenix Stadium, Glendale, Ariz.
Who: No. 20 Boise State vs. No. 10 Arizona.
TV: ESPN.
Local connection: Grant Hedrick, a 2010 graduate of Central High School, and a redshirt senior quarterback at Boise State.