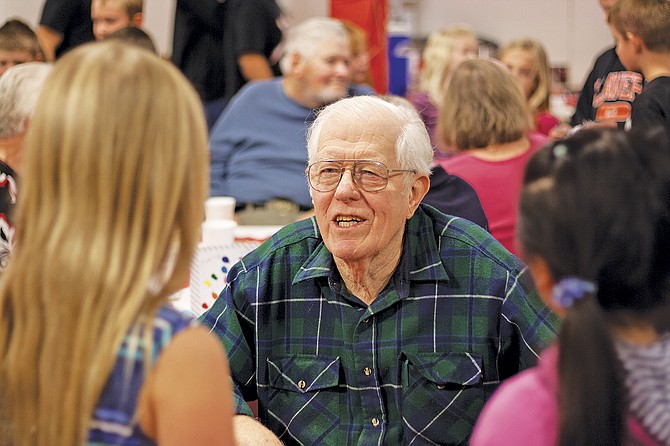 Master Gardener training available
Friday is the deadline to register for Master Gardener training classes that will be offered in Polk County starting in January.
Attendees who participate in the training will discover the science and art of plants using research-based and sustainable gardening practices. Each program is tailored to different climates, soils and local needs of individual counties.
The classes will be held on Wednesdays from Jan. 7 through March 18 from 9 a.m. to 4 p.m. at Trinity Lutheran Church in Dallas.
For more information: 503-623-8395; email to alisha.atha@oregonstate.edu; online at http://extension.oregonstate.edu/polk/master-gardener-training.
Reception for photo exhibit is Thursday
An opening reception for the exhibit "Grain Elevators: An Architecture of Primary Forms" will be held Thursday from 5 to 7 p.m. at MaMere's Bed & Breakfast, 212 Knox St. N. in Monmouth. It is free and open to the public.
In "Grain Elevators: An Architecture of Primary Forms," photographer Dennis Galloway shares striking images of these imposing structures as they punctuate the rural landscape of Oregon and Washington. The show features 16 black-and-white photographs, most in a 7-inch-by-9-inch format that is small by most contemporary standards.
The exhibit, hosted by the Ash Creek Arts Center, is on display through Jan. 3 and may be viewed by appointment only.
For an appointment or for more information: Robert Tomlinson, 509-607-2855; email to artist.rt@gmail.com.
Monmouth authors will be highlighted
Three Monmouth authors, all living on Knox Street, will read selections from their books during an event presented by the Ash Creek Arts Center scheduled Thursday.
The readings will be held starting at 7 p.m. at MaMere's Bed & Breakfast Carriage House, 212 N. Knox St., Monmouth. It is free and refreshments will be served.
The event will feature Terri Gregory, author of "The Identity Crisis of Parenting: A Short Guide to Relief"; Todd Jarvis, author of "Contesting Hidden Water: Conflict Resolution for Groundwater Aquifers"; and Kimberly Jensen, author of "Oregon's Doctor to the World: Esther Pohl Lovejoy and a Life in Activism."

For more information: www.ashcreekarts.org; email to ashcreekarts@gmail.com.
Blackjack tourney slated in Falls City
A blackjack tournament to benefit the Falls City Alliance will be held Friday starting at 6 p.m. at Boondocks, 318 N. Main St., Falls City.
First place is a beach house weekend, while second place receives a 10/22 stainless Ruger rifle.
For more information: 503-991-2380; email to jillianof9@yahoo.com.
Winter gun show set for fairgrounds
The Polk County Fairgrounds & Event Center will host the 2014 Winter Rickreall Gun Show on Saturday and Sunday.
This is an opportunity to buy, sell and trade. Guns, knives, ammunition and collector items will be on display and available for sale.
Show hours are Saturday from 8 a.m. to 5 p.m. and Sunday from 9 a.m. to 4 p.m.
Admission is $6 for adults and children under 12 are admitted free. Food and beverages will be available for purchase.
For more information: 503-623-3048.
Heritage Museum to host open house
The Independence Heritage Museum will host an open house Saturday from 10 a.m. to 6 p.m.
Attendees have the opportunity to view the museum's newest exhibit featuring Independence doctors and medicine, enjoy holiday treats and do some Christmas shopping. Items from the museum store include a wide variety of publications, sweatshirts and handcrafted wooden toys.
For more information: 503-838-4989 or email orheritage@minetfiber.com.
Annual auction for YMCA is Friday
Monmouth-Independence YMCA will hold its 15th annual Christmas auction Friday at 6 p.m. at Green Villa Barn, 3215 Independence Highway.
The $25 ticket includes dinner, with beverages — including alcoholic choices —available for purchase. Tickets are limited.
More than 100 items will be up for grabs in a silent auction. A live auction emceed by Mike Ainsworth will take place later in the evening.
Ten local wineries have donated bottles of wine for a wine pull. Participants may purchase a cork for $20 and win the matching bottle.
The auction is the Y's biggest fundraiser of the year, with all proceeds supporting scholarships. Last year, the Y was able to raise enough for $15,000 in scholarships for youth.
For more information or to buy tickets: 503-838-4042; visit Monmouth-Independence YMCA at 301 S. Main St., Independence.
Next country dance is slated Saturday
Guthrie Park Community Center will host its next monthly country dance Saturday from 7 to 10 p.m.
All ages are welcome for an evening of dancing to the music of Cash & Company. Caller is Truman Price. Dances include old-time squares, big circles, longway sets and waltzes. No experience is necessary; all dances are taught.
Admission is $5 per person, and children 12 and under are free. A family rate of $15 for four or more people from the same immediate family is available.
The center is located at 4320 Kings Valley Highway, south of Dallas.
For more information: Sally, 503-623-0809; guthriepark@gmail.com; www.guthriepark.org.
Sunday breakfast planned at Grange
Buell Grange will host its monthly Second Sunday Community Breakfast on Dec. 14 from 8 to 11 a.m.
Cost is $6 per person, and the menu is scheduled to include your choice of pancakes, sausage and eggs; hash browns, sausage and eggs; or French toast and sausage. Meals include juice and coffee or tea.
The event is a fundraiser. Proceeds go toward the maintenance of the Buell Grange Hall, located at 5970 Mill Creek Road, just off Highway 22 northwest of Dallas.
For more information: 503-623-8462 or 503-843-4703.
Christmas concert set for Monmouth
The Salem Community Chorus, directed by Anna Robinson, will present its fourth annual Christmas concert Sunday at 3 p.m. at Christ's Church in Monmouth.
Holiday music celebrating Christmas across the world will be featured. The chorus of more than 50 voices includes six Monmouth residents.
The event is free and the public is welcome. Refreshments will be served by the church.
Christ's Church is located at 412 Clay St. W.
For more information: Rosemarie Lieuallen, 503-838-3777.
Musicians planning church appearance
The Arena Family from Salem will perform a concert Sunday at 6 p.m. at Heart to Heart Church, 191 N. Monmouth Ave., Monmouth.
A time of fellowship will follow the music.
For more information: 503-838-0537.
'Festive Carolers' to perform in Dallas
Celebrate the holiday season as the Festival Carolers dressed in Victorian costumes perform traditional carols Sunday at 7 p.m. at Trinity Lutheran Church, 320 SE Fir Villa Road, Dallas.
The concert is open to the public. A freewill offering will be accepted, and coffee and cookies served after the performance.
For more information: Sally Miller, 503-623-2721.
Dance school sets event, food drive
Polk County France School of Dance's semiannual dance performance is scheduled Tuesday at 6 p.m. at Talmadge Middle School, 510 16th St., Independence.
Students from ages 4 through teens will perform tap, ballet, jazz and hip-hop.
Admission is three cans of food or a $3 cash donation per person. Food proceeds benefit the Dallas Food Bank; cash donations benefit Joan Schmitt's children's fund.
The school has collected more than 45,000 pounds of food and thousands of dollars in donations over the years.
For more information or details on upcoming classes: Linda France Martin, 503-390-3481; online at www.fsodance.com; on Facebook.
Local clothing drive will take donations
The Darr Family's annual "warm and fuzzy clothing drive" will be accepting donations beginning Monday and continuing through Jan. 5.
Warm and clean clothing for all ages, in good and wearable condition, are needed. Suggested donation items include coats, sweaters, socks, gloves and hats.
Donations may be dropped off at Starlite Lanes, 394 Main St., Dallas.
For more information: Deb Darr, 503-787-3888.
More like this story