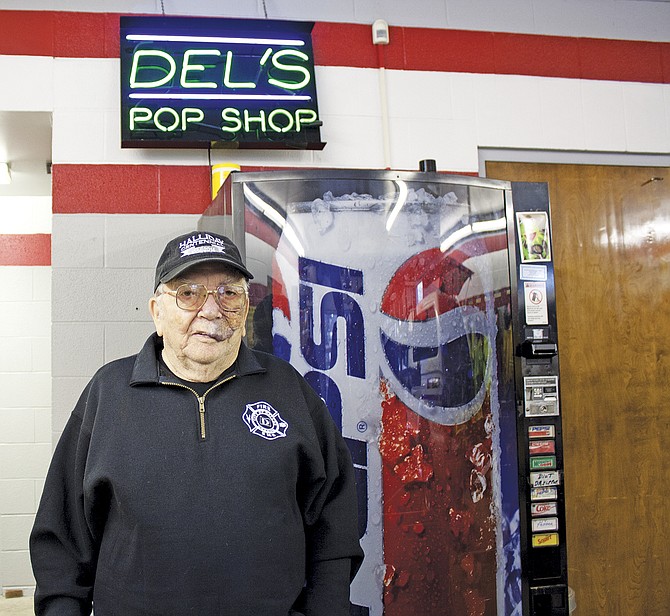 DALLAS — In 2006, Delbert Fredricks was nominated for the "Energizer Battery/Energizer Bunny Keeps Ticking" award program for his decades of service as a volunteer firefighter in Dallas.
Named a national semifinalist, Fredricks didn't win the award. But eight years later, he is "still going," now approaching 64 years of service to Dallas Fire and Emergency Medical Services.
None of that was by design.
Fredricks said he was "persuaded" to join the department in June 1951 by his brother and two brothers-in-law, who all served as volunteers.
"They kept twisting my arm. I didn't want to join," he said. "I had no intention of joining the fire department. To be quite truthful, the first couple years were hit and miss."
No one would say that now as the 85-year-old still finds time to manage the finances of the Dallas Firefighters Association's pop machines — the one in the fire station is nicknamed "Del's Pop Shop" — that raise money for association functions, and to write the monthly newsletter, "Just Rambling."
"I never intended to stay this long," Fredricks said.
When asked why he believes he keeps coming back, Fredricks simply said "family," referring to department members.
Next month, that family will honor Fredricks' dedication to the department by including him in the first class of its Wall of Honor inductees, along with Frank "Harpy" Bovard, Curt Lamb and Clarence "Pete" Peters.
"He's a very good example," Dallas Fire Chief Fred Hertel said of Fredricks. "You can't put into words what he means to the department. He's an icon around here."
Fredricks is also the department's institutional memory. His newsletters often include tales of past firefighting efforts, along with the latest news.
"I'm the unofficial historian, but the thing is nobody can dispute me because nobody is around anymore," he said with a chuckle. "I try to keep it as accurate as possible."
Fredricks remembers his first fire clearly. It was a house on Hayter Street that had a brooder for baby chicks in the attic catch fire.
"I went in with the captain. It was so dark and so smoky, I kept my hand on his shoulder," Fredricks said, noting he simply was "scared."
The house was lost, but the family escaped safely.
"Nobody was trapped, thank goodness," Fredrick said. "Nobody was hurt."
Later in his career, he would save lives, but oddly for a guy who remembers just about everything, there was one dramatic rescue he doesn't recall.
Fredricks saved a drowning woman at the old Dallas city pool, but doesn't remember a thing about the incident. He even met the woman later — running into her while walking his dog — and that didn't jog his memory.
"These two ladies were coming out of the park and one of them said, 'Well, you're the man who saved me from drowning,'" Fredricks recalled. "I have no recollection of it, but she remembers."
Fredricks said in the nearly 64 years since he joined the department as a volunteer, much has changed in the world of firefighting. Techniques, equipment and training have all improved.
"We fought a lot of fires in street clothes," Fredricks recalled. "At the time, volunteers bought their own turnouts."
At a cost of nearly $100, that was a considerable expense for volunteers. He added that training was mostly "on the job" when he joined.
"The training in those days wasn't too good," he said. "The training now is exceptional."
One aspect of the job hasn't changed: the value of selfless service.
Once a reluctant volunteer, over the years Fredricks has learned to appreciate the "satisfaction of doing something for someone else."
Perhaps that is why Fredricks says — with a smile — that his retirement will come only "when they cart me off."
Fredricks' fellow Dallas Fire & Emergency Medical Services 2015 Wall of Honor inductees:
• Frank "Harpy" Bovard — Bovard joined the fire department in 1941. He served as the caretaker of the station and the equipment and as the Dallas Volunteer Firefighter Association's sergeant at arms for more than two decades. The Dallas Area Chamber of Commerce honored Harpy in 1971 for his service to the community and the department. Bovard left the city of Dallas Fire Department $35,000 in his will. His contributions to the community and fire department live on today through the Frank "Harpy" Bovard scholarship the association presents to a deserving Dallas High School senior.
• Curt Lamb — After serving 45 years as a volunteer firefighter, Lamb retired as a deputy chief. Lamb was Dallas Area Chamber of Commerce director for 16 years; was a charter member of the Dallas Kiwanis Club; an organizer of Dallas Kids, Inc.; columnist for the Polk County Itemizer-Observer for 40 years; charter member of the Polk County Museum Commission and president of the Polk County Historical Society; president of the Dallas Boosters Club; treasurer of the Dallas Quarterback Club; and coordinator of Dallas Christmas Cheer for 40 years. Lamb was named First Citizen of Dallas in 1973.
Clarence "Pete" Peters — Peters joined the fire department in 1953 and served until 2001. He served as assistant chief from 1965 to 1988 and was named Firefighter of the Year in 1960 and Officer of the Year in 2001. He served as a director and president of the chamber of commerce. He was chosen Good Samaritan in 1986, and served 24 years on the Dallas Ambulance Association. Peters served 10 years with Oregon National Guard, earning the rank of master sergeant. Once "retired," he helped with Habitat for Humanity and helped remodel the kitchen at the fire hall, aka "Pete's Diner."
About the Wall of Honor: The department's equivalent to a "hall of fame," the Wall of Honor recognizes those who have given "exemplary lifetime service to the fire and EMS department and the community."
Fredricks, Lamb, Peters and Bovard are the inaugural inductees and will be placed on the wall during a formal ceremony in January.