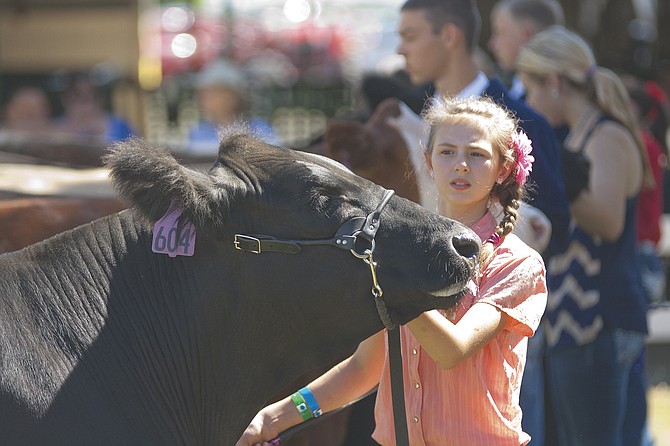 RICKREALL — Want to put your unique stamp on the 2015 Polk County Fair?
The Polk County Fair Board is offering that opportunity with the "2015 Fair Theme Contest."
Each year, the fair board is responsible for coming up with a theme, and frankly, Fair Manager Tina Andersen said, the well is running dry.
She said it's difficult to come up with a theme with wide appeal. The fair board is hoping to find fresh ideas from the general public.
Themes the last two years have been 2014's "Bringing Old and New Together" and 2013's "Farm Fresh Family Fun."
"We are starting to get corny," Andersen said. "We are hoping people on the outside are a little more creative than we are."
Contest entrants need only supply a theme and slogan that can be used as a basis for decorations, exhibits, attractions, and will provide for a "fun and festive atmosphere."
Theme ideas can relate to any part of the fair — agriculture, commercial, carnival — and the slogan should be eight words or less. Rhyming themes and slogans are not necessary, and contest participants can provide multiple ideas. There is no age limit on who can submit an idea, nor is the contest limited to Polk County residents.
Andersen said the fair made the same appeal about three years ago without much response, so the board is hoping a few more ideas will emerge this time — and it is offering incentives.
The winner — in addition to the honor of seeing his or her slogan used at the fair —will receive a "family fair package," with two adult season passes, two junior season passes, and four burgers, four fries and four medium drinks.
The deadline for ideas is Jan. 26 and entries must be submitted on an official entry form. The board will pick the winning theme at its Feb. 19 meeting.
Entry forms are available at the Polk County Fairgrounds & Event Center, 520 S. Pacific Highway (99W), Rickreall, or online at www.co.polk.or.us/fair under "Annual Fair" on the right side of the page.
Got An Idea?
What: 2015 Polk County Fair theme contest.
When: Now through the Jan. 26 deadline.
How: Pick up an official entry form at the Polk County Fairgrounds & Event Center office, 520 S. Pacific Highway (99W), Rickreall, or go online to www.co.polk.or.us/fair, click on the "annual fair" link, and print out an entry form.
For more information: 503-623-3048.