Some people are so organized and their shopping was done weeks ago. At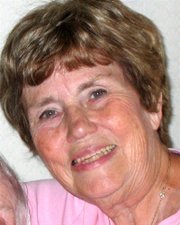 our house, the dining room looks like a Third World sewing factory, with flannel piled high. The cat has even more soft places to nap all day. Some cards still need to be addressed, but somehow it will all come together just in time for happy family gatherings and good times to share with friends.
At this time of year, bazillions of articles are written about how to "survive" the holidays and books appear on the shelves telling us how to manage to get through the days and weeks from Thanksgiving until New Year's Day. All this makes me wonder why one of the most joyous times of the year creates so much stress and chaos, and why we let it happen to us and the people we love.
Despite all there is to do, let's take time to relax with friends and enjoy time with family without turning it into a major production. We can make a big bowl of punch and give the kids popcorn and cranberries to make garlands for the Christmas tree. How about baking cookies to share with our friends and neighbors, and brighten somebody else's day with a smile or a special compliment. If there isn't time for baking and cooking, along with everything else, our local stores have goodies available for every taste and budget.
This may be the first year your children are home from college. They'll be eager to share stories about classes, university life and their newly found independence — or they may not. They may also want some quiet time to relax, see neighborhood friends and catch up on some much needed sleep.
Could this be the year to truly "shop local" and buy from our local stores and businesses, where we know our money will go to our neighbors who work there? We can find what we need from grocery items to specialty baked treats without leaving MI Town. How about Christmas decorations for both inside and outside our homes? Everything we want to celebrate the season is available nearby, and we don't have to worry about crowded malls and parking lots.
During this season, we need to take time away from all the busy activities to think about our families, our friends and our neighbors. It's a good time to count our blessings and to share what we can with those who have not had such a wonderful year. Our communities have a long history of taking care of our own, and what better time than now to show that we can, and we will.