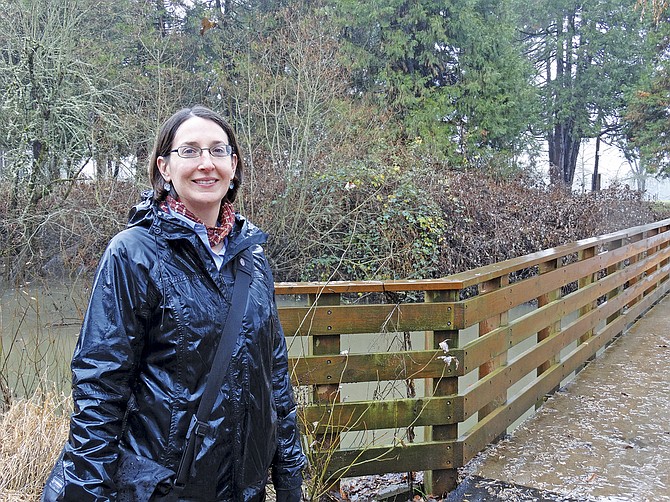 MONMOUTH/INDEPENDENCE — Work is well underway clearing invasive plants from the banks of Ash Creek in Monmouth and Independence.
"We have been cutting away ivy from trees and using herbicide treatments to treat on the ground what's left behind," said Kristen Larson, Luckiamute Watershed Council coordinator.
The project stretches for 2.8 miles, separated into two focuses: revegetation and stewardship.
The revegetation reach stretches from the Monmouth Public Works building at Hogan Road to Wildfang Park, an undeveloped site near 12th Street in Independence.
The section is completely overrun with Himalayan (wild) blackberries and scotch broom, said Monmouth public works director Russ Cooper. Those plants will continue to be removed and native plants will be put in their place.
By restoring the creek's riparian zone back to a more native, natural state, a couple goals will be reached, beneficial for both Monmouth and Independence, as well as for the creek, its plants and wildlife, and residents for generations to come.
The project will help the city reduce the impact of stormwater runoff, as required by the Department of Environmental Quality, Cooper said.
"By restoring this stretch of riparian corridor, in time, a canopy of mature native trees will significantly reduce thermal loads — water temperature — in the river by shading the stream from the sun," he said.
In addition to meeting DEQ requirements, the project is a community beautification effort, Larson said.
"They're little plants now, but it will be great," she said. "It will provide public access for many generations to a beautiful creek, and not just a ditch in town."
Independence public works staff also will help with the project.
Economic Development Director Shawn Irvine said city staffers will spot spray to keep weeds down after the native plants are in the ground, as well as provide signage for the area.
A cooler creek will give wildlife a better place to live.
According to a 2004 watershed assessment, Ash Creek is home to winter steelhead and spring chinook seeking shelter from the raging Willamette River, Larson said, and a healthy creek will enable those fish to rest and eat.
For more information or to volunteer with the efforts: Luckiamute Watershed Council, 503-837-0237; online at luckiamutelwc.org.