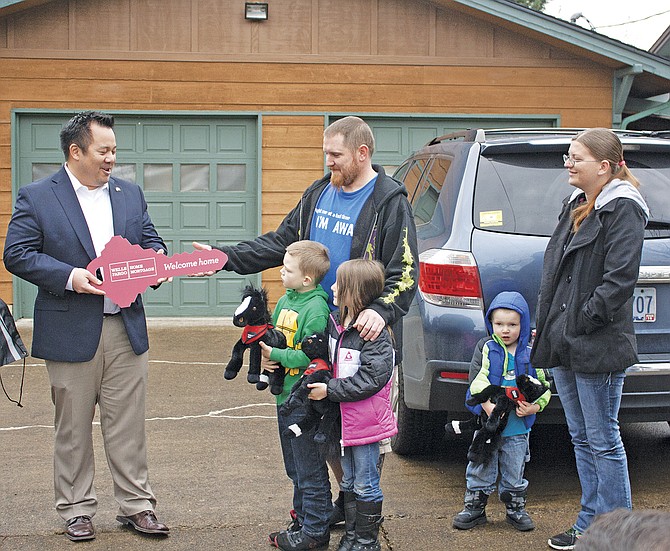 DALLAS — Merry Christmas, McLane family.
Last weekend, Paul and Candie McLane and their three children, Jonathan, 7, Shana, 6, and Adam, 3, packed up their belongings and moved into their new Dallas home.
Their first mission upon moving in?
"A Christmas tree is going up," Paul said on Dec. 17, the day the home was officially presented to his family.
Paul is a U.S. Army veteran who was wounded in 2008 in an improvised explosive device (IED) attack while serving in Iraq. McLane and his family were chosen to receive the home through the Military Warriors Support Foundation's Homes 4 Wounded Veterans program.
Program partner Wells Fargo completed $65,000 in renovations to the three-bedroom, approximately 1,500-square-foot house before donating it to the family. The Dallas home — located on Southwest Stump Street — was one of six donated last week in six states.
"Putting a veteran into a home free and clear before the holidays is special," said Joseph Lai, Wells Fargo's area manager. "It definitely brings a smile to your face."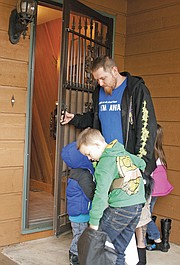 There were plenty of smiles to go around Dec. 17 after Lai handed the house key to Paul. It can't fit under the tree, but the house definitely is the best possible Christmas gift for the family.
"It's a huge weight lifted off my shoulders, trying to worry about how I can provide my family with a house they can grow up in and stay in one place," Paul said.
The family had only seen the home from the outside and in pre-renovation photos, so seeing the finished product was overwhelming for Paul and Candie.
"It's beautiful. It's awesome. There's like a loss of words …," Paul said.
It took Jonathan, Shana and Adam very little time to get used to their new digs, dashing from room to room and claiming their bedrooms. They explored closets, the yard, and Shana even inspected the fireplace.
"I love it. I love it," Shana said while twirling through the kitchen.
Until last weekend, the family lived in a two-bedroom upstairs apartment with a balcony and no yard for the children to play in.
"My downstairs neighbors, they are complaining about the kids constantly," Paul said.
Now, they won't have to worry about that as much.
"It's awesome," Candie said. "We finally get to get out of the apartment."
"We finally get to make noise," Jonathan chimed in, giggling.
More than just a house, the Homes 4 Wounded Veterans program provides a pathway to financial stability for the families accepted.
Toni Carrigan, Military Warriors Support Foundation's Family Transitions Program manager, said the homes are mortgage-free, allowing families to pay off other debt during a three-year "mentorship" program. The families are responsible only for utilities bills and property taxes, and at the end of the three years, are handed the deed to the house.
"We work with them on learning how to be successful and happy homeowners, managing debt and building credit," Carrigan said. "Our end goal for them is to have them debt-free in three years."
Paul said he is grateful for organizations like Military Warriors Support Foundation and the work they do to assist those returning from war.
"Veterans need more support," he said. "There is a high suicide rate for soldiers right now and it needs to stop. This isn't always the answer, but it gives hope."