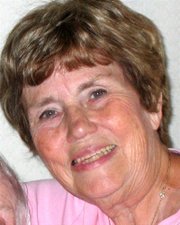 At this time of year, when stormy days and nights are more frequent than not, it is somehow reassuring to me to see the bright lights from the beautiful Christmas tree on the Western Oregon University campus as we're driving along Highway 99W.
No matter how busy the day or what tasks remain undone, M-I Town's Christmas tree is beckoning through the rain and the fog to say "welcome home" from our travels.
Home for us the past 14-plus years has been a sweet old house within walking distance of the WOU campus, where Don takes daily walks with our dog, Gabriel. Our community is a special combination of college students and working people, newcomers and longtime residents, retirees and young children who share our lives without the stress and frustration of city living.
In M-I Town, we share more than a couple of ZIP codes with our neighbors. We get to know one another on walks around town, at the libraries, in the grocery stores and in local restaurants. We are all affected by what happens to neighbors living down the street or around the corner. We grieve one another's losses and try to help when we can. We share our joy and happiness, and congratulate each other when good things happen, because we care about each other. We share a sense of community.
In the midst of all the Christmas hustle and bustle, some are still dealing with personal and financial troubles. There's never a good time to be facing unemployment, and Christmas is the worst time of all. We all need to take the time to listen, help and see what we can do to see our neighbors through difficult times.
Many of us have friends and family members serving in the military in countries far from home. No matter what our feelings may be about war, we love them and miss them, and when we light a candle, our thoughts and prayers are with these brave young men and women who proudly serve our country and will be celebrating Christmas or Hanukkah half a world away. Take this time to think about our veterans and their families, and especially our wounded warriors still in hospitals far from home.
We'll be celebrating Christmas with children, grandchildren and great-grandchildren. We'll share love and laughter with teenagers and little ones who will want to try on their Christmas pajamas as soon as the packages are opened. We'll gently tolerate the dogs nibbling from unattended plates, and will definitely eat several pieces of fudge on Christmas morning.
Merry Christmas and best wishes from our home to yours.