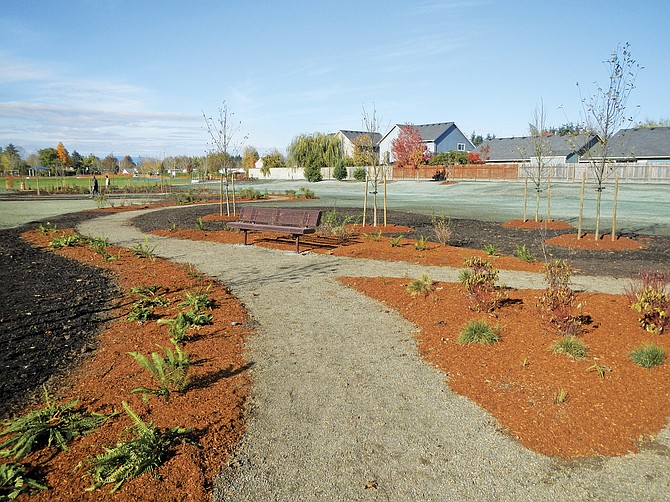 MONMOUTH — In six months, Madrona Park has been transformed from an open field to a park, complete with walking trails and an arboretum.
The $626,000 project is the largest park project in Monmouth to date, said City Manager Scott McClure.
The core improvements are done, but some work remains for the spring, he said.
The park now has a permanent restroom, irrigation in the ball field and a trail around the perimeter. A natural trail runs along the basins in the interior of the park, and native shrubs and trees were planted in the arboretum.
Some things that will have to be "tweaked" in spring include smoothing out trails, checking for level playing surfaces and reseeding grassy areas, he noted.
"We'll have to check the drainage (in spring)," McClure said. "You can design all you want, but you don't know until you do it."
Plans for the park began in 2008, when the city started work on its parks master plan. Madrona Park was already equipped with a playground and basketball court, but the rest was largely a natural open space.
People still used it, but Monmouth didn't really have a place to walk and hike, McClure said.
The project expands the use of the park with the perimeter trail, nature trails, and soccer and baseball practice fields, all which provide more opportunities for the public, said Mark Fancey, community development director.
"The overall appearance of the park is greatly improved and will look even better as the newly planted landscaping matures," he said.
The improvements also provide educational opportunities, Fancey noted.
"The arboretum and native plantings will have plant tags denoting common names and species," he said.
This is the second of the three major parks projects that were identified as top priorities during the parks master plan development in 2008, Fancey said. The other completed project was the Main Street Park splash fountain.
The third and final major project — the Main Street Park Amphitheater — will possibly be constructed in 2016.
Madrona Park is open from sunrise to sundown. Bathrooms and fountains are currently shut off and locked for the winter.
How It Was Paid For
Funding for the Madrona Park project came from the following sources:
• Monmouth parks system development charges: $185,000.
• Oregon State Parks Trail Grant: $69,000.
• Oregon State Parks Recreation Grant: $350,000.
• Monmouth Power and Light: $10,000.
• Monmouth Garden Club: $10,000.
• Independence Elks Lodge: $2,000.