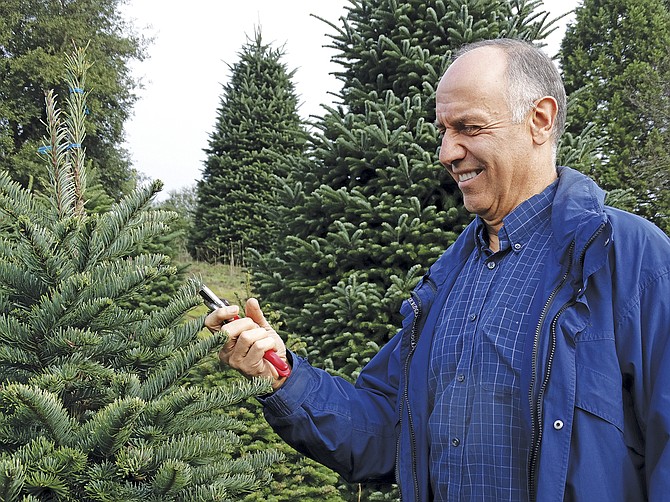 POLK COUNTY — It was a good year for Polk County Christmas tree farmers, from those who run U-cuts to commercial growers and shippers.
Sales were up across the board, though not much, said Ken Brown, who owns Brown's Westwinds Farms in Dallas with his wife, Dorrene.
"We had a good year," Brown said. "The weather was real nice for you-choose operations like ours. We had one rainy Friday that was pretty soggy, but other weekends were really quite good."
The weather probably had a positive effect on sales at Bigfoot Christmas Tree Farms as well, said Buddy Hageborn, co-owner of the Dallas farm.
"Most of the weekends, the weather was very nice," he said.
An ice storm that covered the higher elevations in the Willamette Valley in mid-November affected operations at Noble Mountain Tree Farm, based in West Salem, but didn't stop the harvest, said Bob Schaefer, owner.
"Up on the highest point in Eola Hills, we had at least an inch of ice, and it was ugly," he said. "But it didn't stop us, just slowed us down and forced us to get different products from different areas where the ice didn't impact us as much."
For Noble Mountain, the year was generally positive, Schaefer said.
"Sales were up a little bit; prices were up a little bit," he said.
Noble firs are still the top seller, but a new tree may be a rising star: the Nordmann fir.
In fact, on Brown's farm, it the Noble.
"For us, Nordmann is the most popular," Brown said. "It's surprising people keep coming back for the Nordmann after they've tried it once."
The tree holds up well in both cold and warm temperatures, Schaefer said.
"It holds needles like iron," he added. "That's the main attribute it has."
Brown noted the brighter green color that Nordmanns have over Nobles.
"They're both true firs, both have limbs that lend themselves to hanging ornaments," he added.
Schaefer said Nordmanns also have benefits for the farmers.
"It's a tree for the grower that affords them the ability to plant on ground that won't grow a Noble," he said. "It commands the same price as a Noble, for the most part."
Heidi Thomas and the other owners of Eola Christmas Trees in West Salem also tried a new tree, but it wasn't the Nordmann.
"We had a new type of tree we were offering this year, a blue spruce, so that was something a little different," she said.