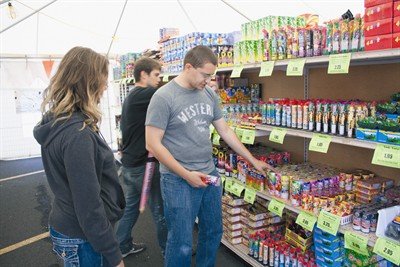 DALLAS — Thinking of putting on your own fireworks show — legal, of course — this year?
Why not consult the experts — managers and employees at local fireworks stands. On Friday, both the TNT and BoomTown Fireworks tents opened in Dallas, offering an array of choices for people to put in their home display lineup. Perhaps too many choices for some.
Branden Drury, the manager of BoomTown's Dallas location, said customers shouldn't be afraid to ask questions. Drury and his staff can usually find exactly what you are looking for.
"People typically ask, 'Where are the noisy fireworks and where are the not noisy fireworks?'" he said. Drury said BoomTown offers "quiet" fireworks — his favorite — and fireworks that can "wake up your neighbors." He can even find fireworks in any color and with any possible effect — sparking, smoking, crackling or whistling. Josiah Brown, the security manager at TNT, likes all of the above. For the last 10 years, he's worked security at fireworks stands in town, going to his day job at Daryll's Nursery in Dallas and back to the sales tent at night.
Josiah Brown "It's almost like a vacation for me," he said. "I just enjoy being around fireworks. I love them. I've been learning all I can — memorize them all — that way I can help other people with them." Brown has become somewhat famous for his Fourth of July parking lot displays, drawing as many as 50 onlookers to see his carefully crafted show. His advice for a fun display is to start small and work your way up to a finale with a dynamic "fountain" firework, like TNT's "cascading waterfall." "Instead of trying to do a whole bunch of them at once, do them one at a time," he said. "And make sure it is dark. With a lot of our fireworks, it has to be dark to see the colors." Both Drury and Brown advise to keep the shows legal and safe — think no bottle rockets or roman candles, and have water handy.
That's good advice, as the Dallas Police Department is warning people it will be closely enforcing local and state fireworks laws. According to police, the amount of resources devoted to illegal fireworks complaints have been steadily increasing in recent years — and the public less cooperative about complying with the law once confronted. In 2013, one group of offenders even blocked off part of a street to put on an unlawful fireworks show, assuming officers wouldn't respond. As a result, this year officers will likely more freely hand out citations for possession of illegal fireworks, a class B misdemeanor. "Unfortunately, the Dallas Police and Fire Departments need to take a more assertive stance regarding unlawful fireworks," Lt. Jerry Mott said in a press release. Drury, who is from Alaska where restrictions aren't as tight on consumer fireworks, said Oregon's law doesn't put much of a damper on his home displays.



"First, coming down here and finding out there are different restrictions, it was a disappointment," he said. "But it's not like fireworks are outlawed. It's giving me an opportunity to reconnect with what I really enjoyed as a kid." Fireworks
Facts ... Large colorful fountain selection
By the Numbers
17,800 —
Estimated number of fires caused by fireworks in 2011, including 1,200 structure fires and 400 vehicle fires.
$500 —
The fine per violation for possessing or using illegal fireworks in Oregon.
1,200 —
Temperature in degrees of the sparks from a hand-held sparkler.
57 —
Percentage of fireworks-related injuries that are burns.
1 —
Number of deaths in Oregon in 2013 due to fireworks-related fires.
Sources: Oregon State Fire Marshal, National Fire Protection Association
Keep it Safe Follow the four "B's:" • Be prepared before lighting fireworks: Keep water available by using a garden hose or bucket. • Be safe when lighting fireworks: Keep children and pets away from fireworks. • Be responsible after lighting fireworks: Never relight a "dud." Wait 15 to 20 minutes, then soak it in a bucket of water before disposal. • Be aware: Use only legal fireworks and use them only in legal places. Keep it Legal • Fireworks are prohibited on Oregon beaches, parks, campgrounds, and on national forestland and most other public lands. • Oregon bans possession, use, or sale of fireworks that fly, explode, or travel more than 6 feet on the ground or 12 inches in the air, including bottle rockets and Roman candles. Source: Oregon State Fire Marshal