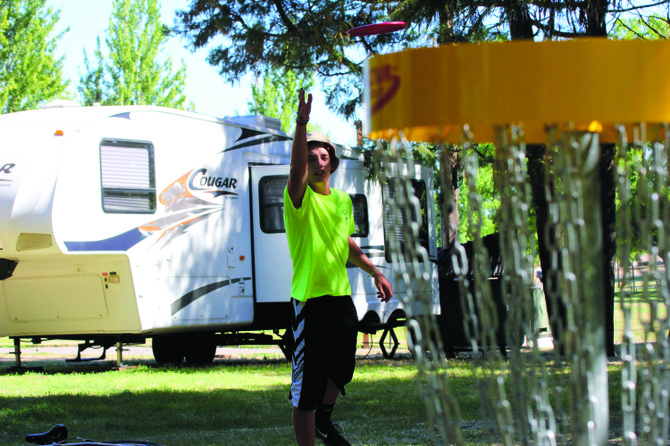 INDEPENDENCE — It's about the thrill of making a big shot with a tournament title on the line.
It's also about spending time with friends and family for a light-hearted outdoor activity.
It's that dichotomy that helped draw Western Oregon senior Hayden Rue to the sport of disc golf three years ago. Since then, he's been involved in tournaments and promoting the sport. This summer, he is helping bring disc golf to a whole new area.
Rue, with assistance from Capital City Disc Golf in Salem and MINET, is completing Independence's first disc golf course to help share his love of the sport.
MINET's Marilyn Morton said the idea for a disc golf course has been floating around for two years after community members brought the idea before the city council, but it wasn't until a new group arrived that the idea began to take shape.
"Last spring, we started working with the city and, after we got the OK, we worked on the course layout," Rue said.
Seven holes are in place at Riverview Park around the amphitheater, with an eighth basket ready to be installed at the park later this summer. Rue said the spot is ideal because of trees already planted to provide natural challenges and walking paths, which cuts down on the project costs. Most of all, it provides a location to draw in more people to the sport.
"We want to get families out there," Rue said. "They are shorter holes, there aren't as many trees on some of them and they aren't as challenging."
Plans to install seven more holes north of the amphitheater across Ash Creek are expected to be completed by mid-August. Those holes will be aimed at pleasing more experienced players looking for a step up in difficulty.
"That side will have more technical shots through wooded areas," Rue said. "There will be holes that are much longer and you'll throw over water and other obstacles. We want to incorporate these things into your shots to make it more challenging and more aesthetically pleasing."
The entire project is estimated to cost $5,400, Rue said. MINET donated $2,000, while Rue said the rest of the total is being collected to finish the course.
Once the course is complete, Rue said he hopes to see tournaments hosted at the course while also promoting casual play for competitors of all skill levels. And for Morton, who also serves on the city council, the course provides a chance to help Independence accommodate a big area of interest.
"I think this will draw a lot of families," Morton said. "What a great place to play and I think we saw that there was a huge groundswell of interest in the sport."