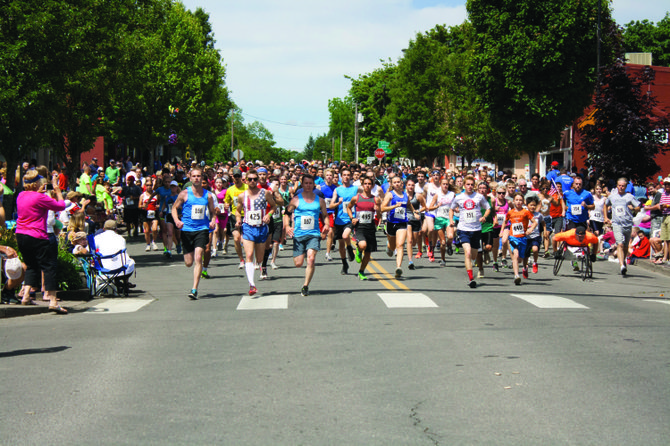 MONMOUTH/INDEPENDENCE — Kacey McCallister is no stranger to racing. He's taken part in numerous marathons, including the Boston Marathon. And yet, he makes sure to not miss the Monmouth-Independence Mini-Marathon each year.
"This is Monmouth and Independence," McCallister said. "… Everybody cheering you on along the path. This is the same kind of atmosphere as any of the big marathons I've competed in. It's pretty awesome."
McCallister set a personal record on Friday, finishing in 9 minutes, 38 seconds, in the wheelchair racing division. But he was just one of several smiles during the day.
The mini-marathon featured 406 participants, including walkers. But despite a new year, a familiar face took the top spot for the women. Hannah Greider earned her third-straight women's title with a time of 15:26, while Central High sophomore Abby McBeth finished second in 15:43.
"It felt pretty good (to win the women's event)," Greider said. "I graduated (from Linfield) in the spring so I've been on a funky training schedule and didn't know how good I was going to do."
Greider began competing in the mini-marathon in 2012 when a friend convinced her to give it a try.
"I was expecting to see maybe 30 people," Greider said.
There were more than 10 times that amount. After winning in 2012 and again in 2013, Greider wasn't about to let her title shift to new hands without a fight.
"It would have been OK if I didn't win, but that's definitely a big part of it," Greider said. "I knew what my 5 kilometer pace was so I went out a little bit faster than that."
The men saw 22-year-old Brady Beagley edge out Joe Gladow in a sprint to the finish to place first. Beagley finished in 12:59, while Gladow crossed the finish line in 13:01.
But it wasn't just those who finished first in their age groups who stood proud after finishing. Jackson Holstad was one of four Central High students who ran the race wearing a cape.
"We thought it would be a cool way to help represent our school," Holstad said.
He finished 18th in his division with a time of 18:54.
"I would recommend running this to anyone," Holstad said. "Seeing your friends on the street cheering you on or running it with you makes it a lot of fun."
Other runners included the father-daughter pair of Aaron and Katie Raines running in Batman gear, a Curves team and more.
That sense of community is what keeps this a unique event. And that continues to be the main reason that people such as Greider continue to return.
"That's what sets this apart," Greider said. "It's not too large and not too small. Everyone is festive and you hear people cheering for you and you feed off of that."