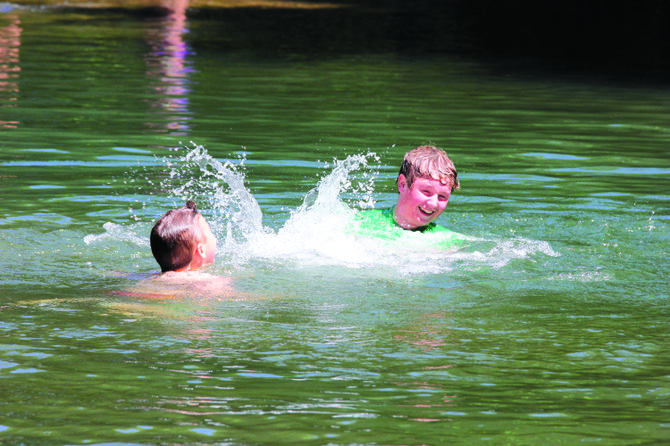 Lions, Scouts want your cans, bottles
Members of the Central Lions Club, Boy Scout Troop 38 and Cub Scout Pack 38 will be collecting recyclable cans and bottles Saturday from 9 a.m. to noon.
The "Cans for a Cause" project, which takes place in the parking lot of Roth's Fresh Market, 1401 Monmouth St. in Independence, will raise money to help pay for Honor Flights to send World War II veterans to the World War II Memorial in Washington, D.C.
For more information: Steven Moser, 503-838-2240.
Titus House III golf benefit set July 12
Titus House III — the Healing Place for Women, will host its second annual benefit golf tournament Saturday at Dallas Golf Course.
Play begins at 9 a.m. with a shotgun start in a four-person team scramble format. Teams of four may be made prior to arrival or will be assembled at the start of the tournament.

Cost is $80 per person for the golf scramble, buffet and beverages, and $60 for food and drink only. All proceeds benefit Titus House III, which supports women in recovery from substance abuse.
For a registration form or more information: Jody McGowan, 503-932-2617.
Dancing Oaks will host annual festival
Dancing Oaks Nursery will host its annual Summer Garden Festival, a benefit for Luckiamute Valley Charter Schools, Saturday from 9:30 a.m. to 4 p.m.
The nursery is located at 17900 Priem Road, southwest of Monmouth near Pedee.
The Pedee Women's Club will sell homemade pies in the pavilion; artists will display their works throughout the garden; live music will be performed in the gazebo; there will be a silent auction; and an assortment of vendors will be on hand.
There is no admission charge.
For more information: 503-838-6058; www.dancingoaks.com; dancingoaksnursery@gmail.com.
Grange schedules Sunday breakfast
Buell Grange will host its monthly Second Sunday Community Breakfast on July 13 from 8 to 11 a.m.
Cost is $6 per person, and the menu is scheduled to include your choice of pancakes, sausage and eggs; hash browns, sausage and eggs; or French toast and sausage. Meals include juice and coffee.
The event is a fundraiser. Proceeds go toward the maintenance of the Buell Grange Hall, located at 5970 Mill Creek Road, just off Highway 22 northwest of Dallas.
For more information: 503-623-8462 or 503-843-4703.
Volunteers needed at senior center
Monmouth Senior Center has an urgent need for volunteers to assist in staffing the front desk at the center, located at 180 S. Warren St.
Volunteers are responsible for taking phone calls, directing calls and people to the center director as needed, and performing general administrative duties.
To volunteer or for more information: Sue, 503-838-5678.
More like this story