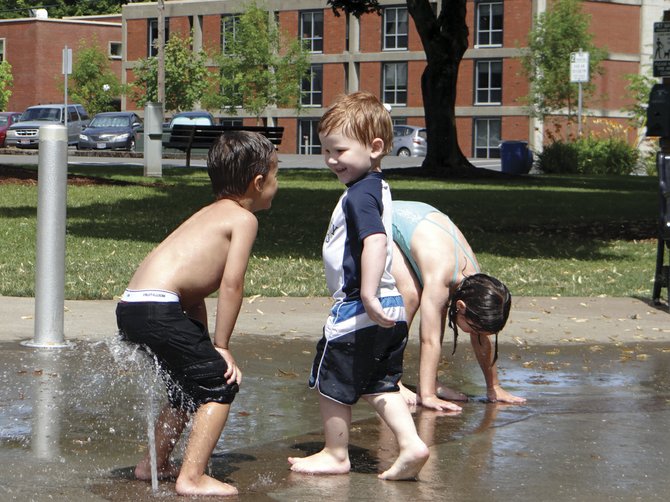 Writers' gathering
on tap in Falls City
The Falls City Arts Council is hosting a writers' gathering Thursday at 7 p.m. at the Falls City Community Center, 320 N. Main St.
The council is inviting poets and writers of prose for an evening of sharing their work and supporting each other.

For more information: Barbara Spencer, arts council president, 503-787-4311.
Jump rope camp
begins next week
The annual Rope Buster jump rope camp takes place beginning Monday at Lyle Elementary School in Dallas.
The camp runs daily through July 25 from 9 to 11:30 a.m. in the school gym, 185 SW Levens St.
All ages and abilities, from beginning to advanced, are welcome to participate. Cost is $30, which includes a jump rope and T-shirt, or $20, which only includes a jump rope.
For more information: 503-623-8074.
VBS starts Monday
at Trinity Lutheran
Trinity Lutheran Church of Dallas is hosting its annual Vacation Bible School beginning Monday at the church, 320 SE Fir Villa Road.
The camp, themed "Jungle Safari," is for children from preschool through sixth grade. It takes place daily from 9 a.m. to noon through July 25.
Registration can be completed by visiting the church office Tuesday through Friday from 9 a.m. to 4 p.m. or by calling the church.
For more information: 503-623-2233.
Memory screening
clinic being offered
Appointments are being accepted for free memory screenings that will be conducted Monday at the Independence Public Library, 175 Monmouth St.
Alzheimer's Network of Oregon is conducting the free memory screenings for those who have preregistered. Memory screenings will be conducted in 20-minute sessions from 10:30 a.m. to 1:30 p.m.
Memory screenings will be conducted by a trained screener. Each private screening will include a standardized test and takes about 15 minutes.
To preregister for the memory screening or for more information: Alzheimer's Network of Oregon, 503-364-8100.
Donations sought
for Dallas book sale
Friends of the Dallas Public Library is still accepting donations of materials in good condition for its annual Summerfest Book Sale, scheduled July 25-26 at the Dallas Civic Center.
Hardback and paperback books are sought. Reader's Digest condensed books, textbooks and magazines cannot be accepted. Donated items may be dropped off during regular business hours up until the day of the sale at the Dallas Public Library, 950 Main St.
Proceeds from the sale benefit the library. Among the recent items funded by Friends of the Dallas Public Library are books and media purchases, equipment and furniture, summer reading materials and programming.
For more information: 503-623-2633.
More like this story